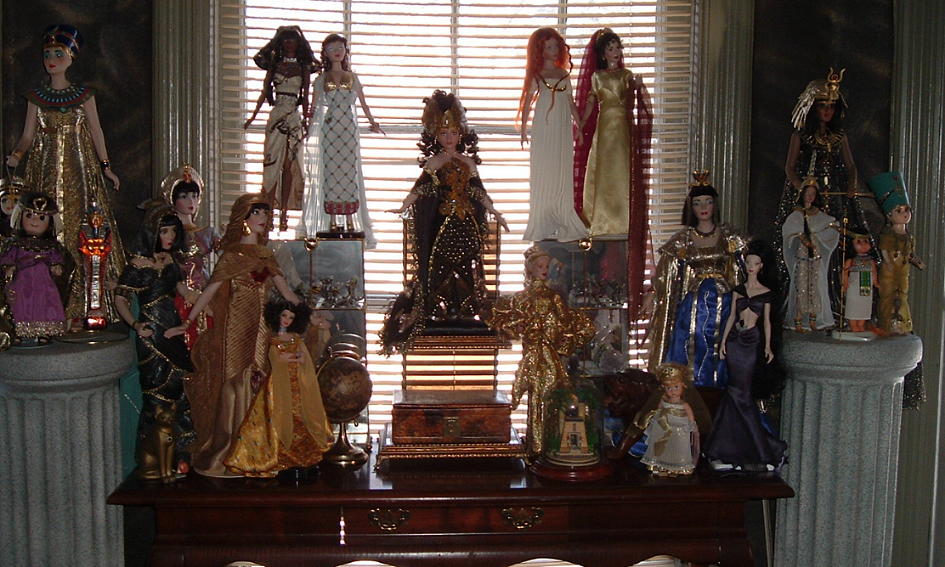 This part of the room includes a long table with most of my dolls on display. They include porcelain dolls from the Franklin Mint, vinyl dolls of all sizes and some Egyptian figurines and collectibles.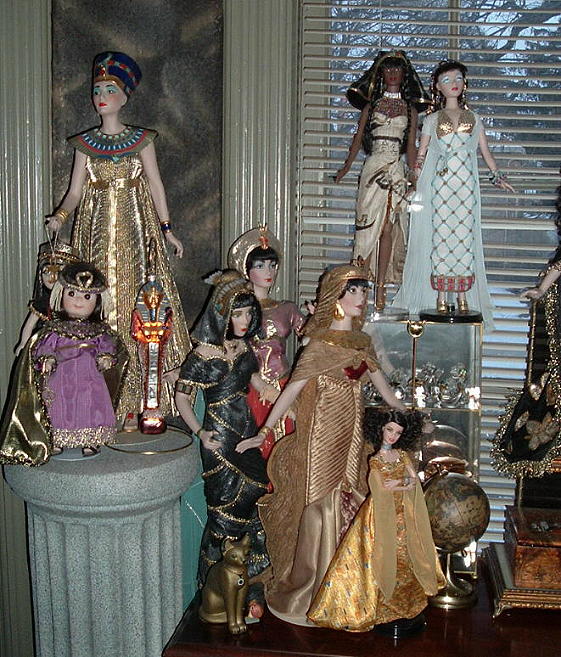 This display shows the vinyl Gene Daughter of the Nile at the top along with Tonner's Esme in a custom outfit. Also shown are Franklin Mint Cleopatra , Nefertiti and Selket, Danbury Mint Hepshetsut, Klimt Barbie (wearing an Egyptian print gown) Nefertootie, a googly eye doll from Home Shopping Network and a Christopher Radko mummy Christmas ornament.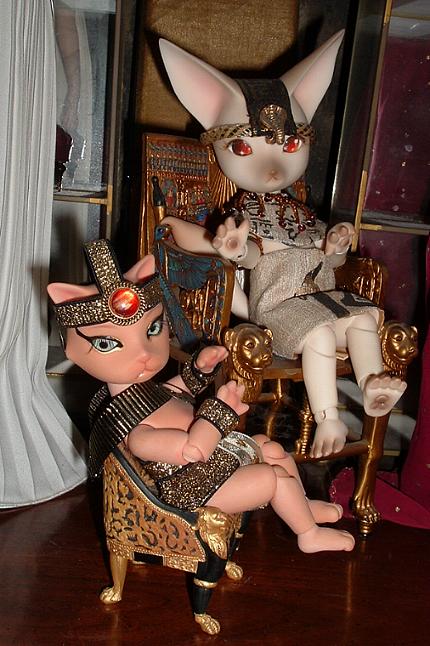 Tiny resin ball jointed dolls. Egyptian cat by Dollzone of Korea is 6" tall and Pipos Fox (dressed as the Egyptian God Anubis by me) is 8" tall.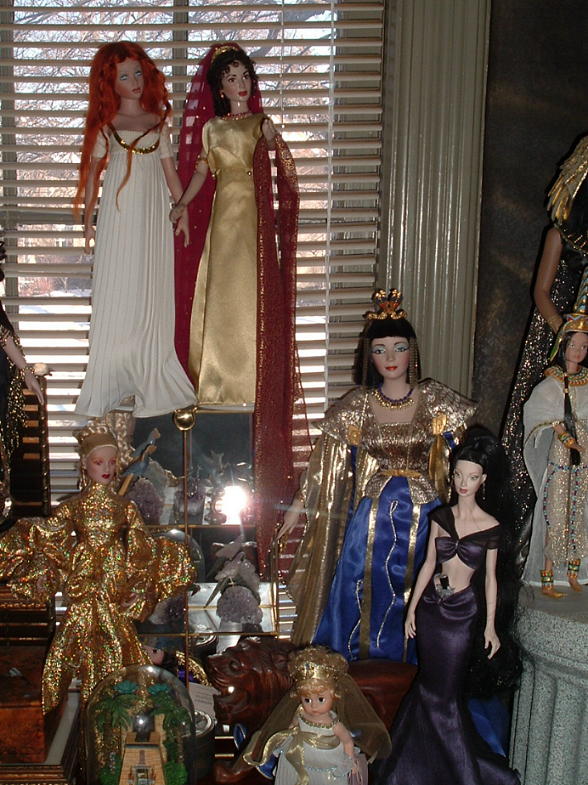 At the top we have Kish's Electra and Franklin Mint vinyl Julia the Roman Empress doll. This part of the display includes a Franklin Mint porcelain 20" Cleopatra, an 8" Madam Alexander Pandora and the Elizabet Bizelle doll in the purple gown...not really an Egyptian doll, but she fits right in here.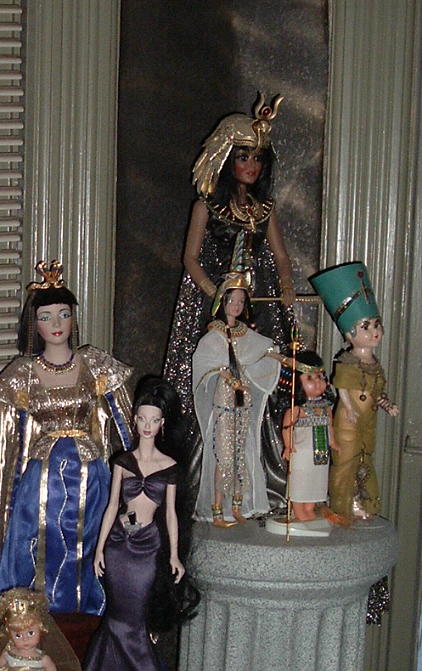 On the pedestal the dolls include a Maryse Nicole dark skin Cleopatra from the Franklin Mint in porcelain, Susie Egyptian Queen doll, an 8" Ginny doll and a vintage 1950's 10" hard plastic doll dressed in Egyptian style that I found at a doll show.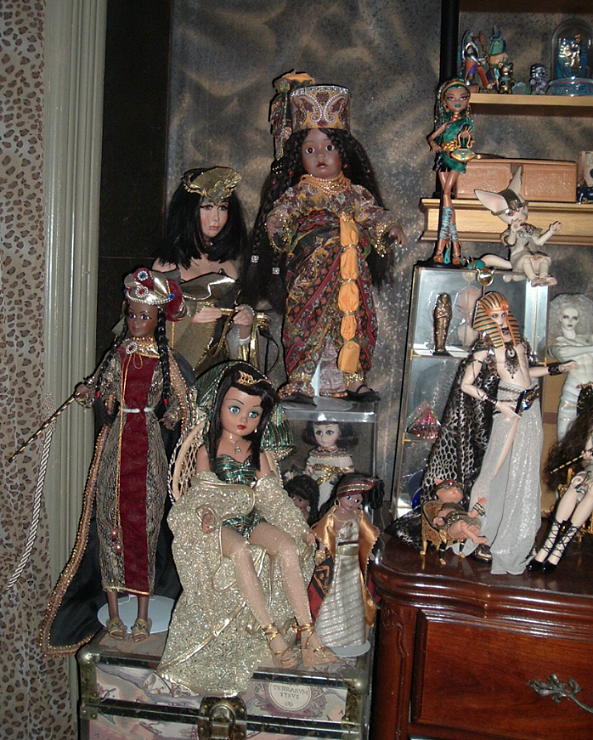 This corner includes some African dolls, Kamisha by Pat Loveless in porcelain, a 30" Cleopatra porcelain doll in the back, porcelain Queen of Sheba, Cissy Egypt seated and Madam Alexander Cleopatra and two 8" Gemini dark skin twins as well as the Madam Alexander Kwanza doll.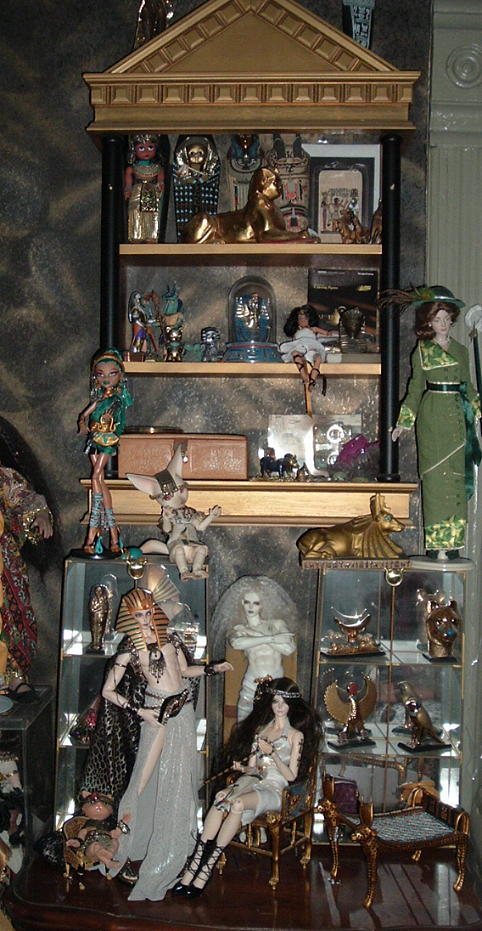 This display includes my wall shelf with tiny Egyptian figurines and collectibles, Monster High Nefera vinyl doll on the left. Franklin Mint Gibson Girl dressed in 1912 style (could be a tomb explorer) on the right. On the table is my collection of resin ball jointed Egyptian dolls, including from Fairyland dolls, the Pharoah Fabilis, in the center, white resin Chicline Rou and seated Chicline Lishe dressed in an Egyptian outfit.
The top of my armoire is all Barbie dolls. Gold Jubilee on the left (because she is all dressed in gold, she is displayed here) Bob Mackie Barbie Goddess of the Sun, the new Cleopatra Barbie from 2011, Barbie as Athena, Elizabeth Taylor as Cleopatra and the first Barbie as Cleopatra and Barbie is Roman Empress.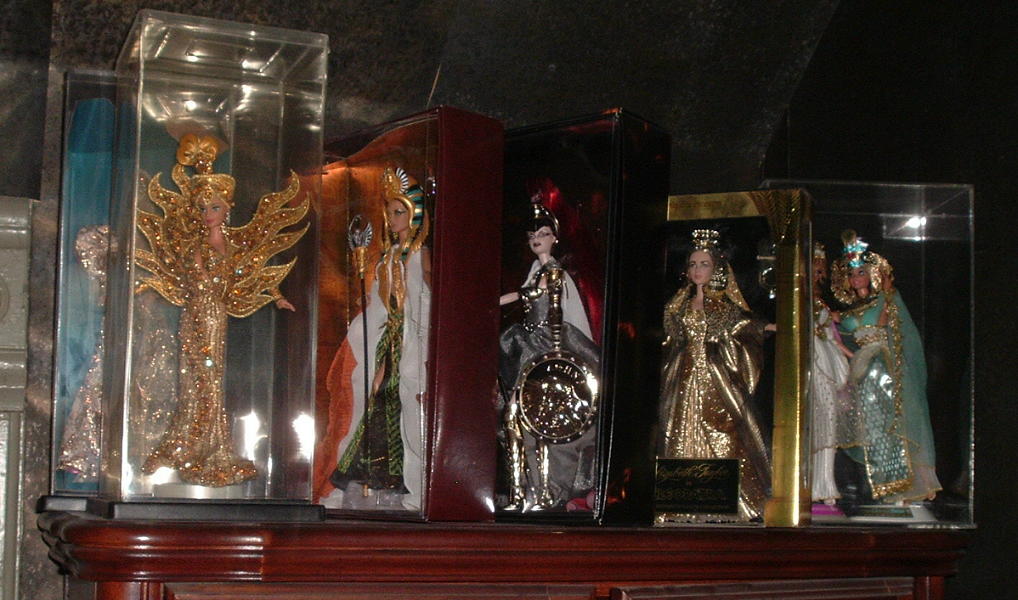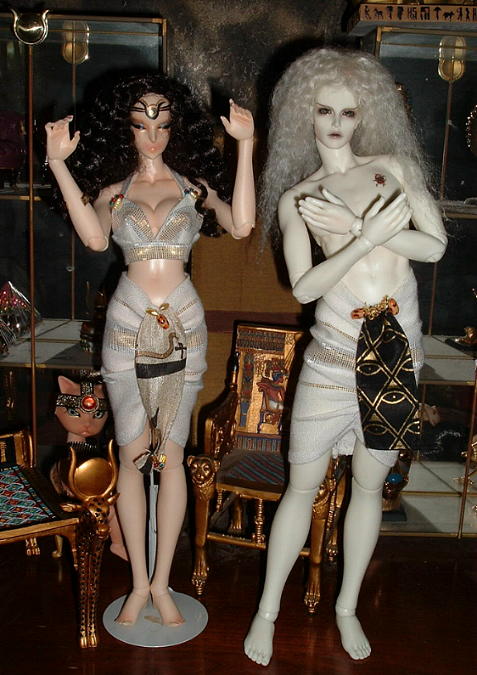 Resin ball jointed dolls by Fairyland's Chicline dolls, Lishe has an optional cat face plate which I painted as the cat Goddess Bast. Rou is dressed as a temple priest.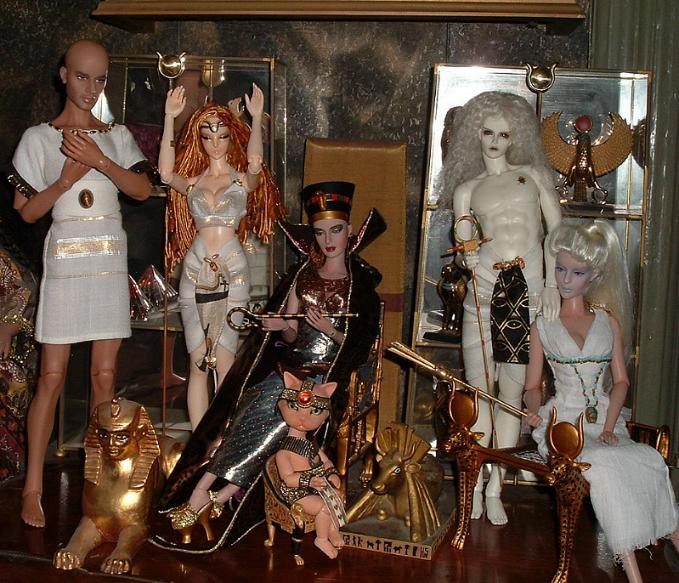 A group of resin ball jointed 16" fashion type dolls dressed in Egyptian style. On the left is Jamie Show Alejandro as a temple priest, Chicline Lishe with cat face, Jamie Show Eshe Egyptian Queen, Chicline Rou and Jamie Show Sasha as a servant
A place to discuss collecting dolls from the Franklin Mint
Return to main page