Decorating My House for Halloween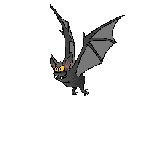 The Halloween Village includes Dept 56 with some Lemax Spookytown buildings. The display uses the dining room table (aprox 72 x 40") with painted styrofoam bases and a grass mat.

New for 2010 is the haunted Halloween carnival. The ferris wheel lights up, moves and plays creepy music. The swinging chairs and the fun house add to the horror! The Lemax spooky merry go round is also animated and musical.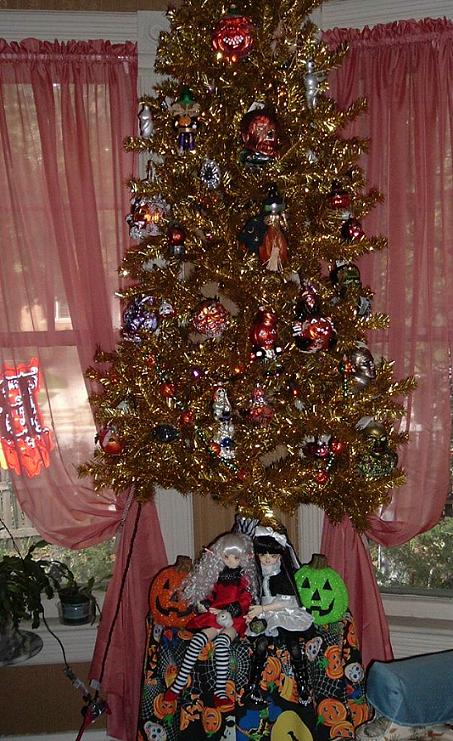 The 5 foot tall gold aluminum Halloween tree decorated with Christopher Radko and other Halloween glass ornaments.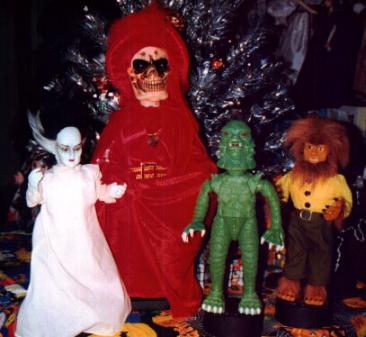 Here are four Telco Motionettes for Halloween. On the left is the 18" battery operated Bride of Frankenstein, then the larger 24" electric Mask of the Red Death, then the 18" battery operated Creature and on the right, the 18" battery operated Wolfman. The battery operated Motionettes are part of the Universal Monster collection. Their eyes light up, their heads and arms move and they make spooky sounds. The larger electric motionette has a lighted head and moves his head and arms.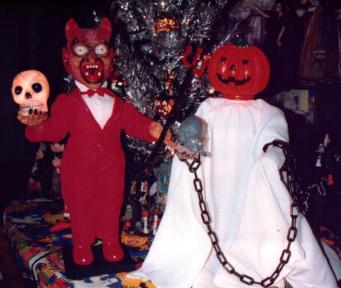 Here are two of the older 24" Telco Motionettes, the Devil and the Ghost with the pumpkin head. These are both electric and have lights, moving heads and arms.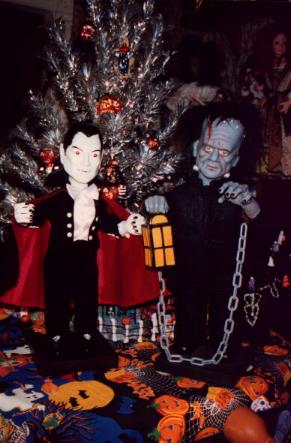 Two more large, 24" electric Telco Motionettes, on the left Dracula and Frankenstein on the right. Dracula is a newer version and also has a spooky laughing sound as well as motion.