Jamie Show resin ball jointed Dolls
Jamie Show dolls are resin, ball jointed 15.5" fashion dolls sold exclusively by Angelic Dreamz shop in very limited editions. The line began in November 2009 with a series of four high quality resin dolls, Jamie, Mayumi, Ru Yi and Kyra. The dolls come in basic styles or fully dressed and with painted eyes or with removable acrylic eyes. All dolls have removeable wigs and are made with a high quality new type of environmentally safe resin. In 2010, more dolls were issued with different skintones and face sculpts. The dolls no longer have the option of changable eyes, but now have all painted eyes. The dolls can wear Gene doll size outfits and shoes, some Tyler shoes, Sybarite shoes and size 5/6 wigs. They arrive with face paint and beautifully blushed bodies.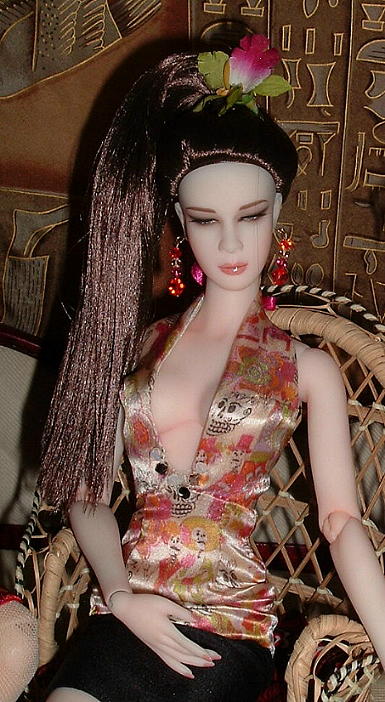 Lovely oriental beauty, Sun joined the collecton in August 2011. She has a removeable hard wigcap. These caps can be purchased separately like wigs and come in a variety of styles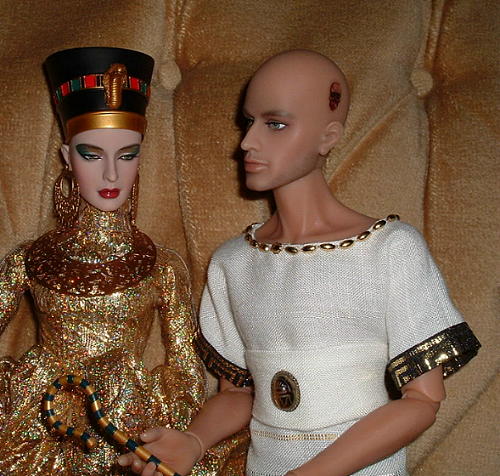 The gorgeous Egyptian Eshe, a Doll Reader magazine exclusive limited to 50 dolls arrived in July 2011. I redressed her in a more traditional Egyptian dress rather than the gold gown she came in. Her hard cap headpiece is held by magnets and can be replaced by wigs or hard magnetic wig caps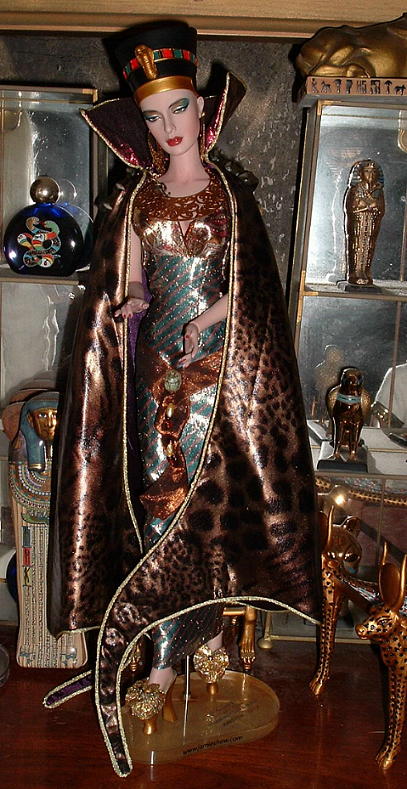 Eshe wearing a gown I made for her and the Jamie Show Fantasy cape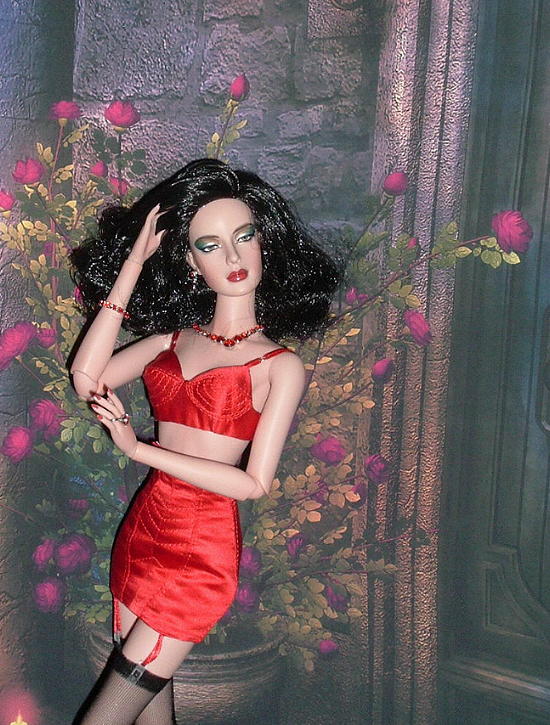 Eshe now wears a Jamie Show rooted wig cap in raven and Gene red lingerie for that pinup girl look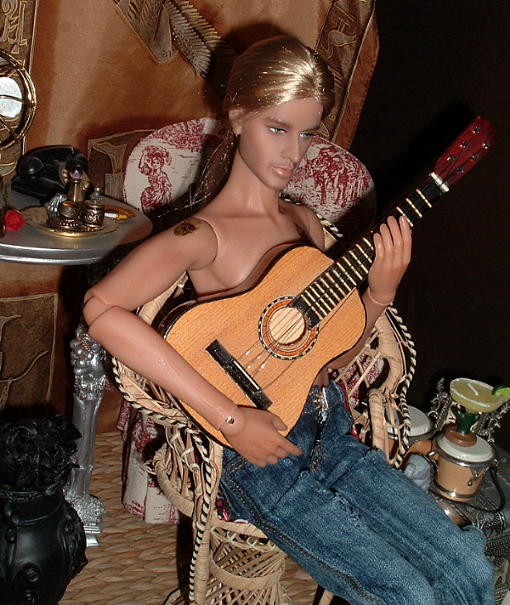 The gorgeous male doll, Alejandro with tan skin and a very Latin look joined my collection in April 2011! Here he is wearing a Jamie Show ladies wig (which looks rather dashing on him) and Jamie Show men's jeans.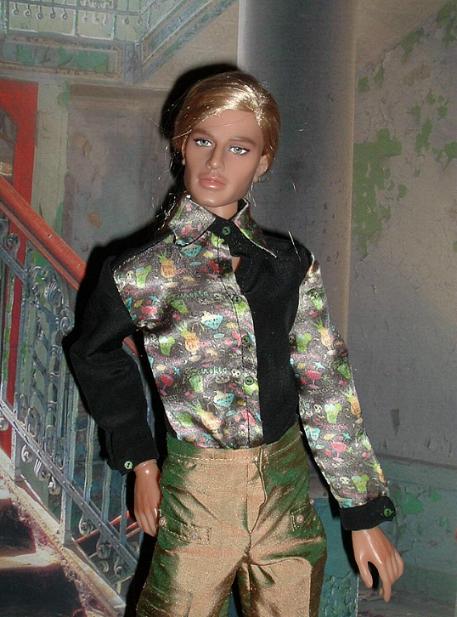 Alejandro wearing a silk shirt and slacks I made for him.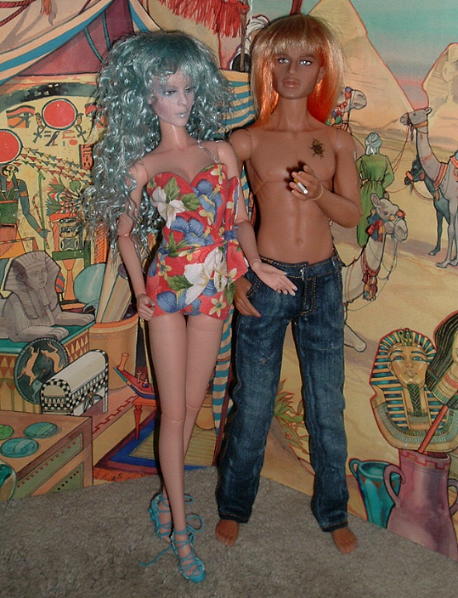 Alejandro and Sasha visit Egypt. He now wears a size 5/6 Monique JoJo wig. I added the decal tatoos.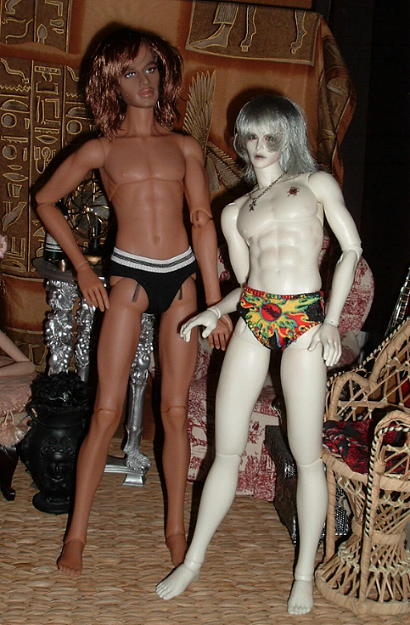 Alejandro as he arrives in his original wig and bikini briefs. He also comes with a black t-top. Here he is shown with another resin ball jointed doll Rou from Fairyland of Korea's Chicline fashion doll series. Alejandro is about an inch taller, close to 17" tall.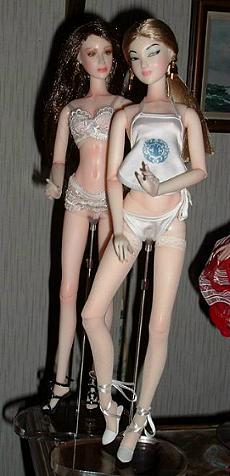 Two Jamie Show dolls in their original basic outfits, Mayumi and Ru Yi. Mayumi comes in a basic bra and panty with stockings and shoes as well as four different color wigs. Ru Yi comes in a Chinese style pajama with shoes and four wigs. Mayumi has the changable 6mm acrylic eyes. Ru Yi comes with only painted eyes.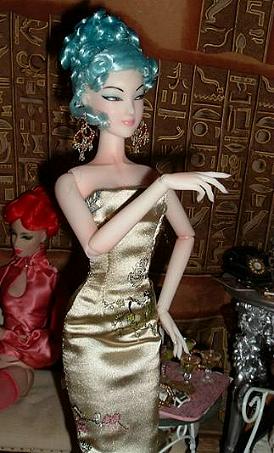 Ru Yi was my first Jamie Show doll. I love her exotic Chinese style face and beautifully sculpted hands with slender separated fingers. The dolls also come with an extra pair of hands and dressing hands, a ball shape that replaces the hand to dress the doll easily in slim sleeve fashions. Here she wears a blue wig by Joe Tai and a gold Asian style gown made by me.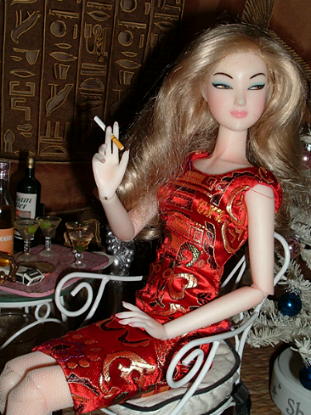 Ru Yi relaxes as a bad girl in a blonde Monique Ginger wig. These dolls can wear size 5/6 wigs.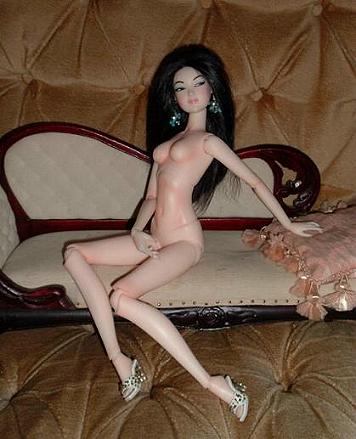 Ru Yi nude showing her lovely sculpted body. Jewelry and shoes by DAE Originals for their Vivian doll.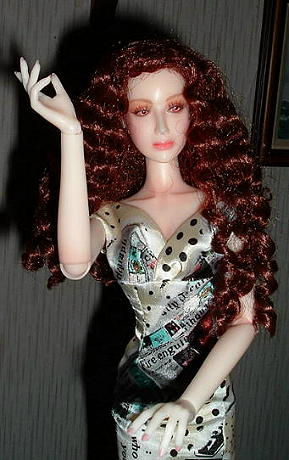 Mayumi in 8mm volks pink acrylic eyes.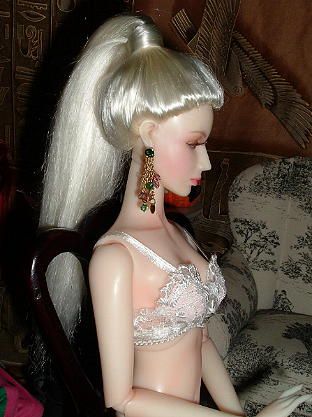 Mayumi wears a new Jamie Show ponytail wig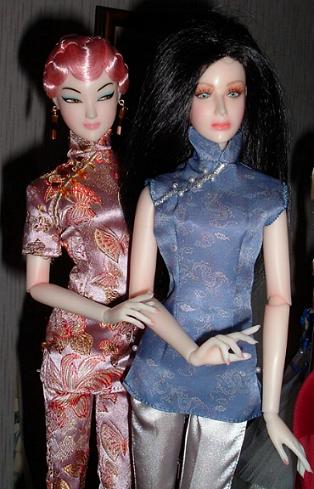 Mayumi and Ru Yi in the Asian inspired outfits I made for them.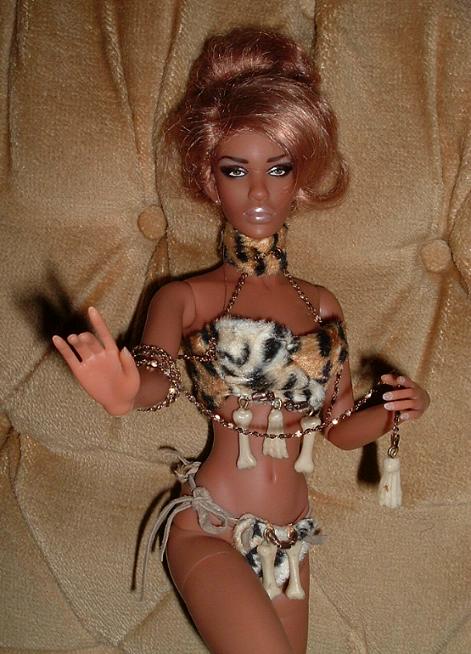 In 2010 I added Sabena to my collection. She has a darker skintone and the new body with additional joints at the upper thigh. I made the leopard fur outfit for her and she wears a Monique Hope wig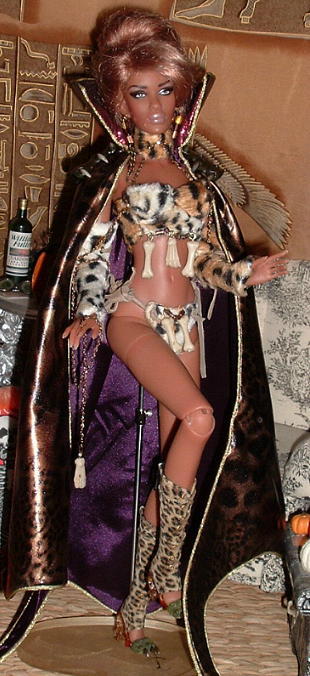 Sabena wears the long leopard print cape from the Jamie Show Fantasy Collection. She also wears the Jamie Show Fantasy leopard claw boots.

In 2011 I added the IDEX exclusive Sasha Homage. She is limited to 25 dolls and is so unique with her blue glitter eye makeup and lips. She arrives in a silver crystal embossed dress and tights with another unique feature, a rooted removeable head plate so you can change her gorgeous hairstyle anytime! Included is another bald head plate to attach so she can wear wigs!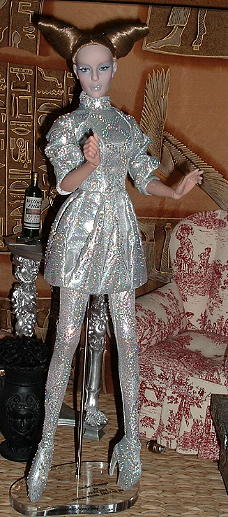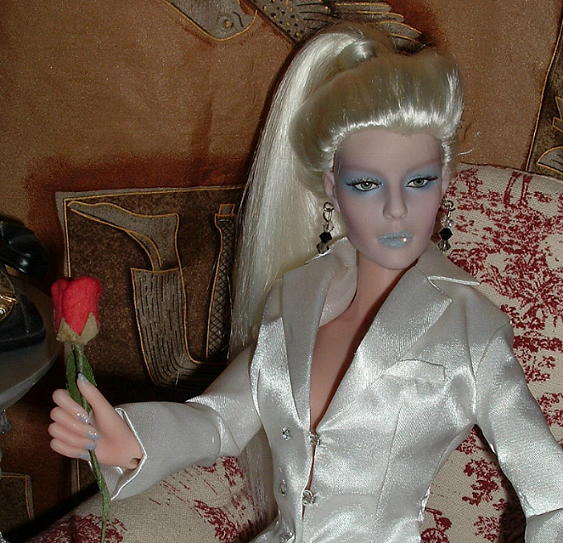 Sasha wearing a Jamie Show ponytail white wig and the Sybarite Blade outfit
Links
A group to discuss these dolls