Val's Blythe Doll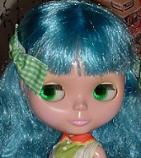 Clik here to visit my petite Blythe page
My newest Blythe is a custom tan jointed body, face painted by me and wearing a size 10 wig.
Sally Salmagundi is a pirate Blythe, released by the Blythe Shop in March 2015. Wonderful detailed pirate outfit .
Blythe Night Flower is a Blythe Shoppe exclusive released in June 2006. Here she is in her red satin embroidered oriental style jacket and black boots.
A custom outfit in the style of Alice in Wonderland with a Halloween theme, from a pattern in Dolly Dolly magazine.
Blythe in her Alice style dress with her tiny Petite Blythe counterpart, Marmalade Heart Petite Blythe.
My Disco boogie Blythe got a face paint enhancement with shiny red lips, some blush and more shadow and some curl in her lovely frosted blonde hair. she wears Flower Power outfit
Disco Boogie wears the orange wig from the Flower Power set and the dress from Candy Carnival. She wears ReMent miniature boots from their Summer Vacation miniature set.
Blythe models a custom outfit by me from a pattern in Dolly Bird magazine.
Asian Butterfly Blythe and her Petite Blythe counterpart.
Blythe in her Pinky Doodle Poodle outfit. This comes with a pink wig and two outfits.
Asian Blythe in her Midnight Hour outfit, which also includes a curly white wig and various mix and match pieces in black vinyl
wigged Disco Boogie Blythe relaxes with a redressed Candy Carnival on her own furniture by Takara for Blythe displayed in the original Blythe doll case.
Body comparison with other big head dolls, Pullip on the left, Blythe center and Coco by Sekeguchi on the right.
Blythe wears a replica outfit of the original Roaring Red outfit from 1972



My four Blythe dolls, Disco Boogie in orange wig, Candy Carnival with light blue hair, Asian Butterfly with navy hair and Night Flower in long brunette hair.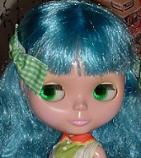 Return to Val's Japanese dolls Page