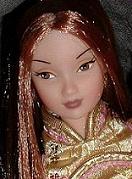 Susie from R&D
Susie is a new 11" fully jointed fashion doll from R&D Fashion Dolls in Taiwan She made her first appearance in December 2003. The very first Susie is the Chinagirl Susie. Chinagirl was available in two versions, the blonde which is limited to 300 dolls and the redhead, which is limited to only 100 dolls and is now sold out.
I can't say enough good things about this doll! The quality is outstanding. The clothing is fully lined and finished. The dress has a tiny zipper in the back and the doll wears underwear with a separate slip under the dress. She comes with her own lucite clear base stand with sturdy metal upper to support the doll. Her joints are tight and fully poseable. For a doll in the $75 to $85 range, she is well worth adding to your collection.
My newest Susie, the exclusive gothic Susie from BIC in Japan, limited to 300 dolls for the Japanese market and released in May 2006.
I added the cross earrings.
Susie as Queen of the Nile was released in October 2005 in an edition of only 70 dolls.
Susie Siberian Spirit Blue Moon is an edition of only 200 dolls rooted with navy blue hair! She was released in April 2005. The other 200 Siberian Spirit Susies have white hair.
Sunkissed Riviera Susie with tan skintone.
Riviera Susie wearing Azone metal armor for a warrior look.



Beautiful Beijing Susie in faux red leather.



The exclusive Susie from Fashion Doll Quarterly magazine. Issued in an edition of only 150 dolls and now sold out, she wears a navy version of the NY Susie jumper and has platinum blonde hair!



Susie Chinagirl redhead with a new friend, Chinese New Year Qee, exclusive to Tower Records.



Tokyo Trendy and ChinaGirl Susie as they arrive from the Premier collection in January 2004.



Tokyo Trendy and ChinaGirl redressed in lots of mix and match pieces. Tokyo Trendy wears the Azone 23cm British Union Jack jumper and Azone boots, with Volks That Girl white leather cap. ChinaGirl wears a Lollypop Girl top with Barbie skirt and Volks That Girl Denim cap. Susie can wear many other doll outfits!



Tokyo Trendy redressed in an Azone black leather slack set.



Susie wears the Azone outfit Chocolate Cushion Valentine This outfit comes with the heart shaped pillow, the little bear, white teddy and matching lace underwear (stockings are optional from Azone)





Susie can wear Takara Jenny outfits. Here she is wearing a Jenny Street outfit.



A body comparison of three very similar doll bodies. Azone's Sahra on the left, Susie and Momoko (with the glamourous Takara body) on the right. Susie has a very different knee joint, much smoother in appearance, both back and front and her hands are uniquely sculpted with separated fingers.




Links



R&D Fashion Dolls, a place to purchase Susie

Return to Val's Japanese doll page


If you don't hear the music playing on this page, you need
To download Crescendo