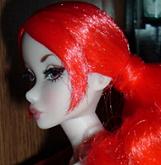 Nippon Misaki dolls
The Nippon Misaki dolls are a Japanese exclusive doll made by Integrity Toys for the Japanese market. The first 3 dolls issued in early 2006 included the doll shown here, Harajuku Honey. She has tan skin and frosted blonde hair. The bodies are fully jointed but more youthful in shape than the Fashion Royalty fashion dolls. In May 2006 Haute Doll magazine issued their own exclusive Misaki Metallic Moment in an edition of 300 dolls. My newest Misaki is Destination Paris with the gorgeous crayon red hair.
Misaki Destination Paris as she arrives in her original outfit. She is a limited edition of 300 dolls released in early 2008.
Misaki Paris wearing Azone separates
Harajuku Honey as she arrives. She is limited to 300 dolls for the Japan market.
Here is the Haute Doll exclusive Metallic Moment Misaki. She has a very light skintone, frosted blonde hair, lovely blue eyes and is dressed in metallic faux leather hot pants with goldtone tweed jacket, t-shirt, matching hat and boots.
Metallic Moment and Honey Misaki together. What a great pair!
Metallic Moment wears a Barbie Fashion Fever outfit.
Honey wears a custom made 60's style mod dress.
Honey in a custom kimono made by me.
Honey wears an Azone gothic style outfit.
Honey wears a Barbie Fashion Avenue anime style outfit from a few years ago.



Another of the 4 Barbie Fashion Avenue anime outfits released.
Honey models Barbie Fashion Avenue outfits.
Honey models an outfit from the Fashion Royalty Ginza Kyori giftset.
Honey gets a tatoo!
Links
A Yahoo Group for Nippon Misaki collectors
Return to Val's Japanese doll page