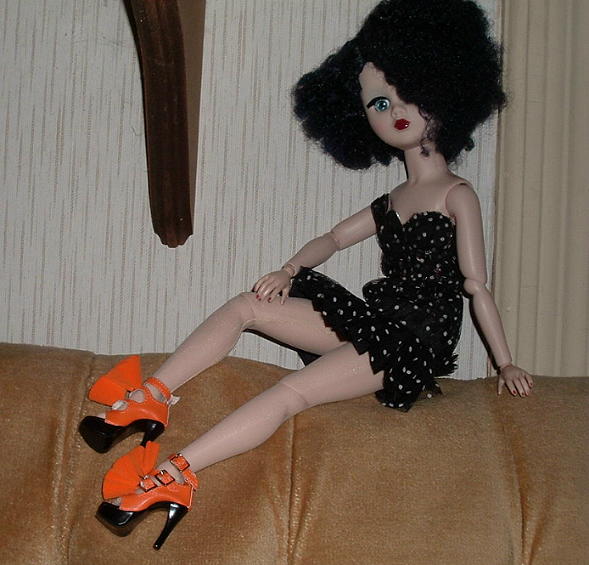 Neo Cissy Bluebelle. She has a blue wig that can be removed although it is glued down. I like to rewig mine so I did peel it off.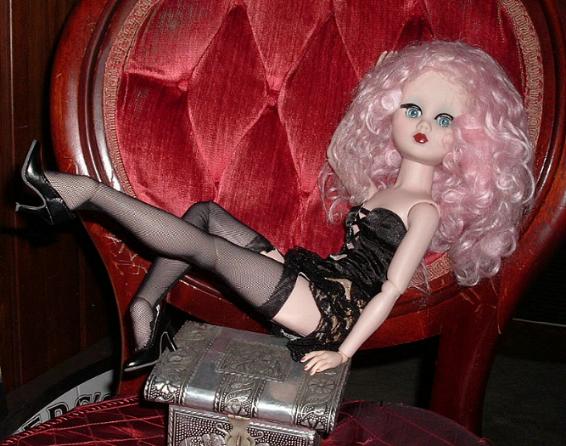 Bluebelle in a pink mohair size 7/8 wig and outfit and shoes made for Wilde Imagination's Evangeline Ghastley "vinyl" doll.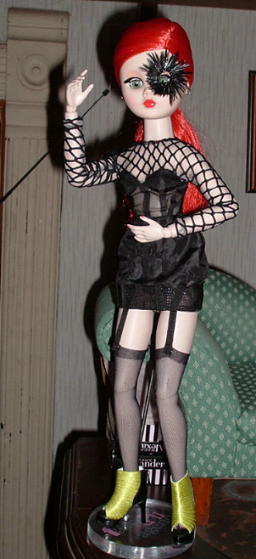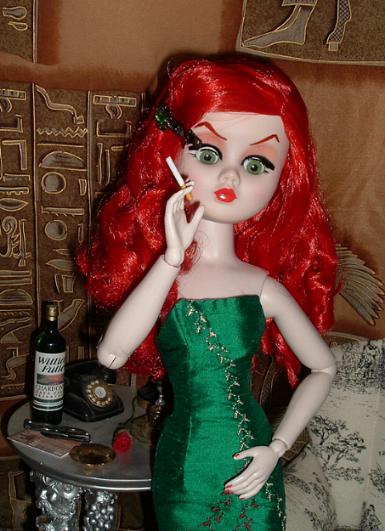 Neo Cissy Infant Terrible who I now call Stormy. I took down her gorgeous long rooted red hair and restyled it and also painted eyebrows as these dolls had none.

The very first modern Cissy was Cissy in the Leopard Travel Ensemble from 1996. Original price was $299. Another was Ebony and Ivory Houndstooth suit. Mine is the African American edition which was extremely limite to aproximately 50 dolls.

Cissy Cafe Rose and Ivory cocktail dress was another Cissy in the original 1996 release. Here she is with Leopard Travel and Houndstooth suit.

From the 1997 collection, Cissy Daisy Resort Ensemble. She came with the wood folding beach chair, a bathing suit, slacks, cover up, snood, hatbox and sunglasses.

Another 1997 release, Cissy in Tea Rose cocktail Ensemble. This outfit had a sheer evening coat over the cocktail dress, hat and matching purse. Mine is the African American version.

The Neiman Marcus exclusive St. John Cissy from 1998. She was limited to 750 dolls exclusive to Neiman Marcus stores. Orginal price was $620. Her suit was styled after the St. John knit suits and her frosted short blonde hairstyle was quite unique. I removed her original dark green tights as they stain the doll and replaced them with these green sheer stockings.
From the 1999 collection, the Fernando Sanchez Cissy. I love her futuristic look with a plastic bubble cap over gorgeous white platinum hair. A satin gown with a satin evening coat trimmed in white maribou.
From the 2000 collection, Cissy Cairo. An Egyptian style Cissy with a gorgeous tan skintone! Her outfit consists of a short bodysuit in Egyptian print with matching headdress, a long matching skirt, a gold coverup and a gold overskirt. Lot's of mixing and matching ideas here and gorgeous jewelry.
Yardley Cissy Morning Ritual is a basic Cissy dressed in pink bra and panties, terry cloth robe, stockings and slippers. She is very much in the style of a vintage Cissy. From 2001.
Bewitching Salem Cissy, limited to 75 dolls from 2006

Bewitching Salem and Cissy Couture Noir close up. Both are gorgeous gothic style dolls.
<
Cissy Couture Noir from 2006, limited to 200. She comes with a wonderful black ponytail wig and a red feathered wig.
Southwestern Cissy from 2007. She comes with two wigs, long frosted blonde and a curly brunette. Lovely light tan skintone.

Southwestern Cissy redressed in a sweater dress I made.
Rose Splendor is not a Cissy, but a special doll from 1999. She is 17" tall, the same size as the Coco doll from 1998, but this limited fall release doll was as elegant as Cissy in this red velvet and rhinestone ensemble.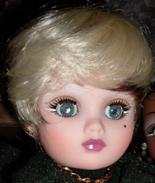 Return to Val's Madam Alexander doll main page