My first Coquette is the black Acceptance Speech doll. She has rooted hair and is easy to wig over her hair for a variety of looks.


Here she is wearing a size 5/6 Tyler wig in burgundy and wearing one of the dresses from the Cissette hatbox set. Cissette is shown with her wearing her gown.

A special Coquette exclusive to Fashion Doll Quarterly magazine released in April 2005. Cosmopolitan Coquette is limited to an edition of 200 dolls and comes with the black snakeskin trenchcoat, sweater, skirt, pantyhose, boots, sunglasses and the cute doggie, a Basenji named Chili!

Modeling her trenchcoat.
Well Suited Coquette was released in April 2005. She arrives in a white slackset and fabulous sequined white sandels.
Coquette Well Suited is a dead ringer for her big sister, Cissy St. John, the Neiman Marcus stores exclusive from 1997. They both have the same short blonde hair with dark undertones!

Exclusive Coquette for Cherished Friends doll shop Independent Traveler limited to an edition of 500 dolls. She has the Jacqui face mold. She arrives in a black stretch jumpsuit, print coat, scarf, matching bag, lace up ankle boots and a small magazine and stand.

Jacqui wears a custom made kimono
Jacqui takes on a new look with repainted lips and lavender eyes and a pink wig. She models a custom made sheath dress and 3/4 coat.

Another exclusive Coquette,Simply Irresistable , from Annette & Friends doll shop, limited to 500 dolls. The has a streaked dark blonde wig, zipper in her dress, pantyhose and slip on shoes.
Simply Irresistable Coquette is wigged, so it is easy to remove her original wig and rewig her for lots of different looks! Here she is wearing a size 5/6 Monique blonde wig in her custom 1870's Walking suit for a historical look.
Here is Simply wearing a Charles Josef Tyler size wig in pink for a 1950's Bobby Soxer look!
Simply wearing a long blonde/pink Charles Josef Tyler wig in an outfit made from the Perfect Pattern included with this doll.
Here she is in another Charles Josef "Barbie-size" wig wearing a Barbie Fashion Fever outfit.
Coquette wears the Alexander outfit Seaside Soiree. It consists of the pink print cotton dress, fully lined with back zipper, pink straw hat, pink pearl necklace, pink straw bag and pink satin slip on high heels. It also comes with underwear!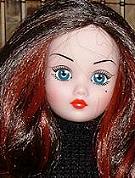 Return to Val's Madam Alexander main page