My Innoquii Dolls by Superdoll of London
The Innoquii dolls by Superdoll of London were released in December 2008. There will be a series of 4 dolls. These are strung dolls, made of porcelain, fully articulated and only 14" tall. All four dolls have fantastic painted on body tattoos in various themes. The dolls are not named, but numbered. The Innoquii dd/02 doll Ants is sold directly from Superdoll of London in an edition of 300 dolls, as will be the other two dolls, the Bride and the Nurse. Her theme is the picnic and her body tattoos are ants on her arms and hands, dragonflies on her thigh, upper arm and back and a lovely vine design on her lower stomach. There is a tiny red heart behind one ear! The clothing consists of blue jeans and checked blouse, white lingerie and straw hat. Her red high heels are plastic. Her porcelain joints are sueded and she has gorgeous blue glass eyes and applied lashes. Her hair is a mohair ponytail in a deep auburn color and the way the hair is done is quite unique. The hair is glued to a separate head cap, which lifts up to show the stringing. The cap holds the elastic that holds the doll together, so the doll cannot be rewigged or rooted (but if the head cap had a "hook" instead of the current hole in the porcelain to hold the elastic, it may be possible to put a bald head cap on the doll, refasten the elastic and use wigs.
Another doll released in December is Innoquii dd/01, Traveler exclusive to Haute Doll Magazine. She is done in a traveler theme with totally unique body tattoos, a large black spot over one eye, a tiny airplane flight path on her lower tummy, compass on her upper back, passport tattoos on her arm, large man in motion on her lower calf.

The Bride was released in April 2009. She is wearing a stunning glittering wedding gown, silk panties, garter, stockings, white shoes and veil. Her tattoos are her wedding gifts, all done in white, silverware, lamps, clocks and lace detail on her wrists and lower tummy and a fantastic skeleton of her backbone on her back! The Nurse was the last and my favorite released in July 2009. Her body art is fantastic with hypo marks and bandaid on her arms (mine has one on both arms and no black armband) hypo needle on back of leg, graphics on lower tummy, cross on upper arm, heart on back and scientific formulas on her thigh. Gorgeous lavender glass eyes and raven hair.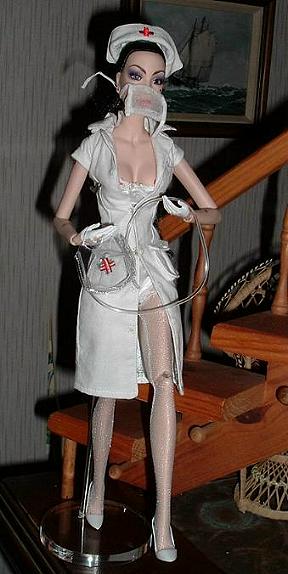 The nurse as she arrives in her original outfit. She also comes with a sheer apron, not shown here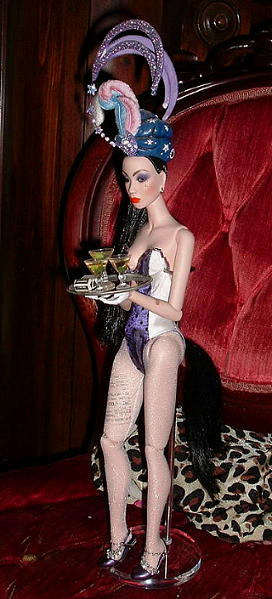 I made her a sexy cocktail club outfit. I call this one working at the Pony Club as it has a long black ponytail on the back.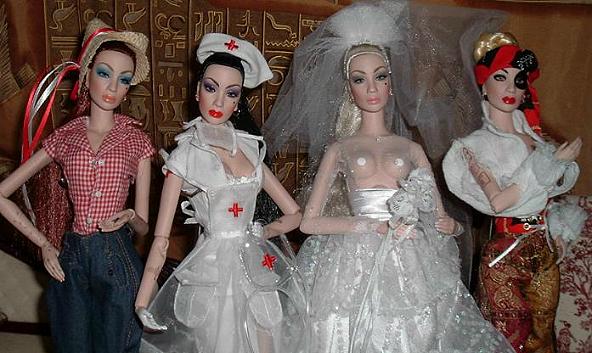 All four of my Innoquiis in their original outfits, except Traveler, as I purchased her nude and dressed her as a pirate



All four dolls nude to show their body art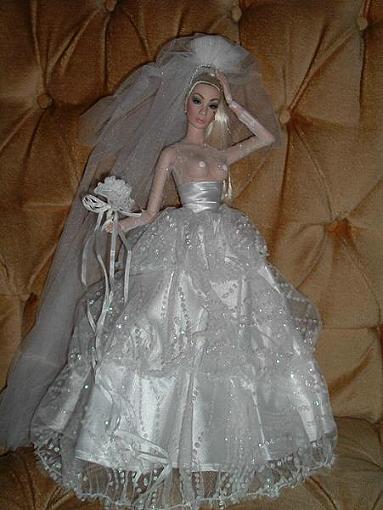 The Bride in her gown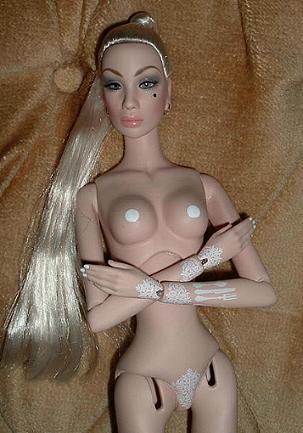 Showing off her tattoos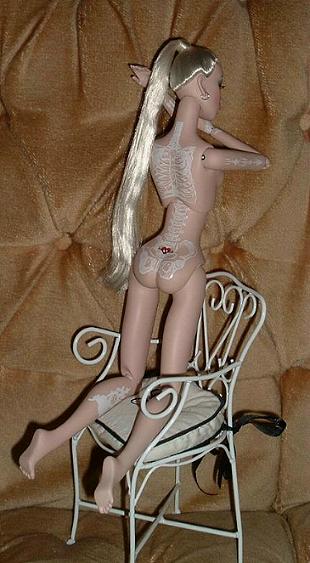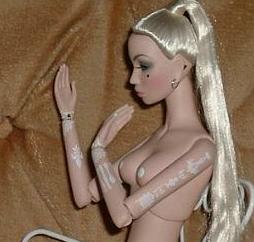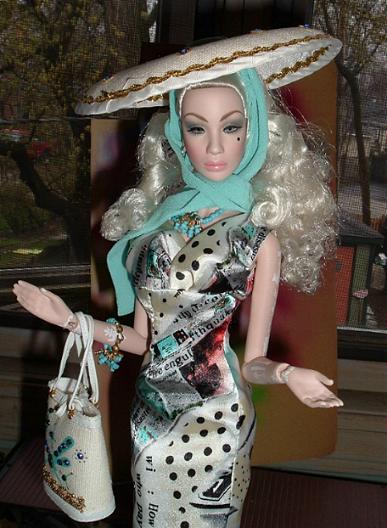 The Bride with her hair boil permed in a dress made by me




Traveler as a pirate



Innoquii dd/01 the Traveler redressed in a custom stewardess outfit made by me in blue silk from an enlarged Barbie pattern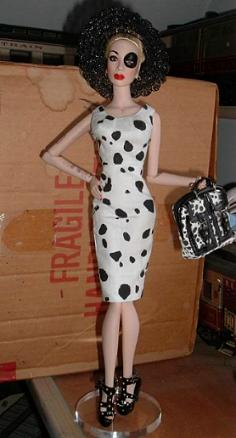 Traveler wears a dress made from a Gene pattern by Randall Craig reduced to 88%. Shoes are from Fashion Blvd. for Felice, Bag from Fashion Royalty and a vintage straw hat.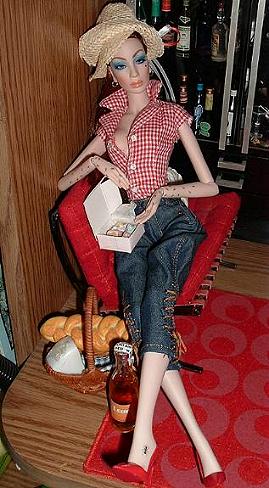 Innoquii, who is now called Vazka wears her original picnic outfit. The tiny food does not come with it. These are miniature picnic accessories from the CED doll company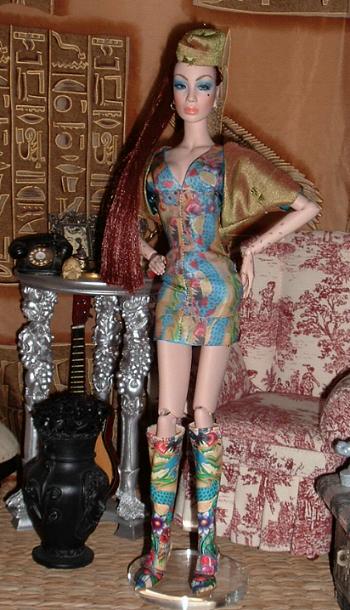 Ants wears Sybarite tattoo boots with a silk dress in a matching print made by me.



Here she wears her original outfit with a different hat, a vintage coolie style cap from Japan in the 1960's. I also added the little fishing rod and bug box, both from ReMent miniatures of Japan.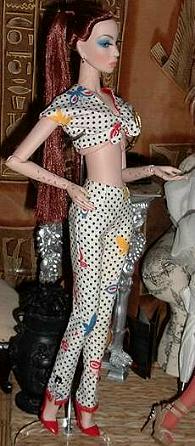 Wearing a 50's inspired pants set made by me from a vintage apron and a reduced Gene doll pattern.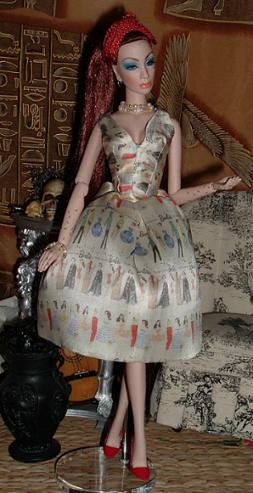 I made this Barbie print dress by scanning in a tiny Barbie print and printing on silk fabric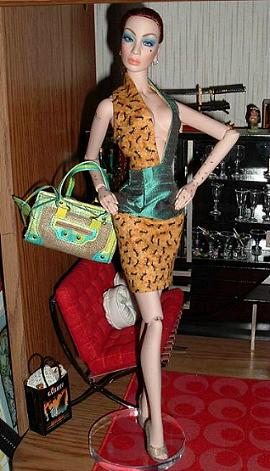 I made this dress from an enlarged Barbie pattern by Randall Craig from an old Barbie Bazaar magazine. The ant print goes nicely with her ant tatoos. Shoes are vintage Little Miss Revlon shoes, purse by Superdoll.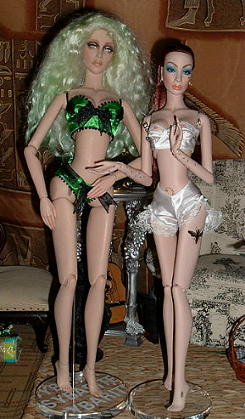 Here she is with her taller sister Sybarite Parsley. She wears her original satin underwear.





More pictures of my Innoquii dolls on my Doll Page photo site

Superdoll Web Site to purchase dolls and accessories


Return to Val's Sybarite web page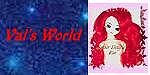 Return to Val's World main page


<