Solitaire in a red wig in Superdoll separates from Champ Paq accessories.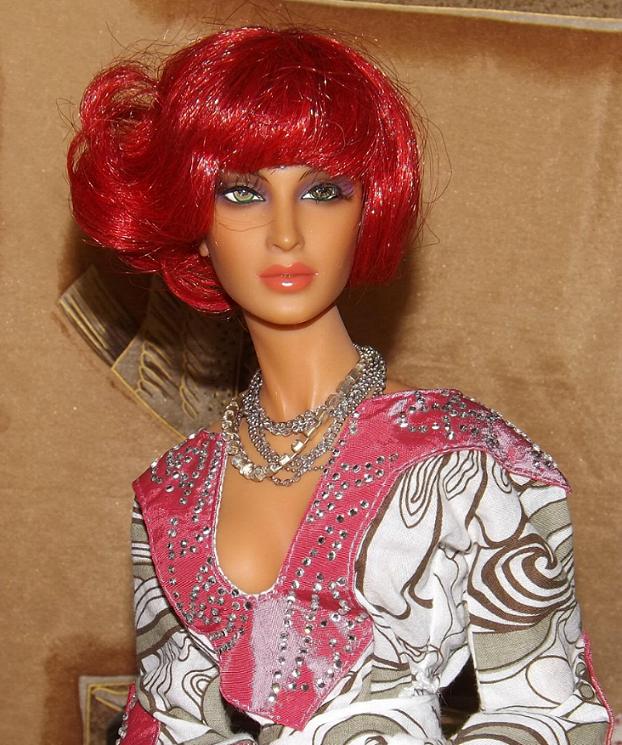 Raja wears the red whipped wig and the Tribe outfit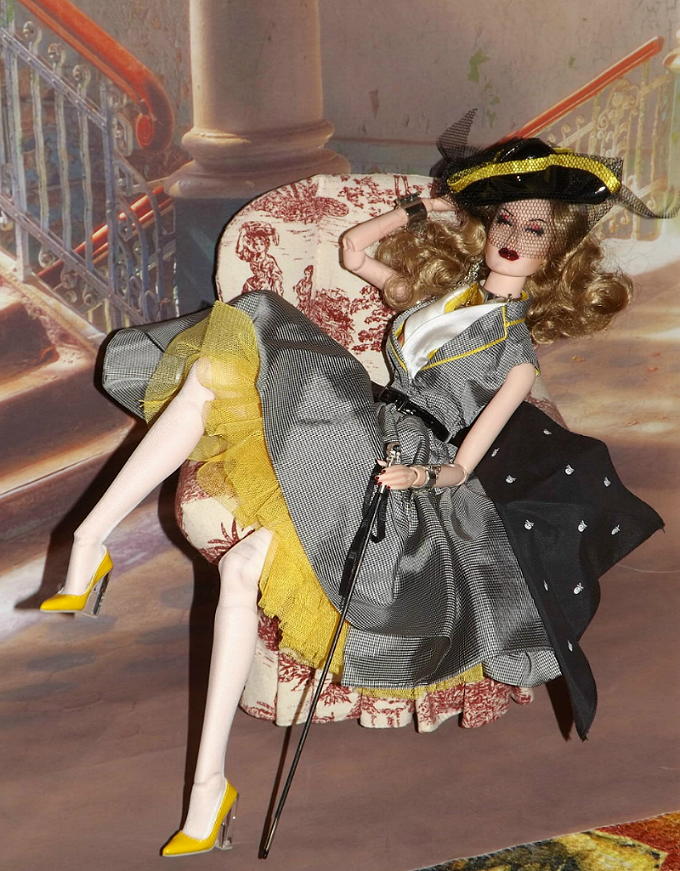 The Enclosure Royale outfit modeled by Cirque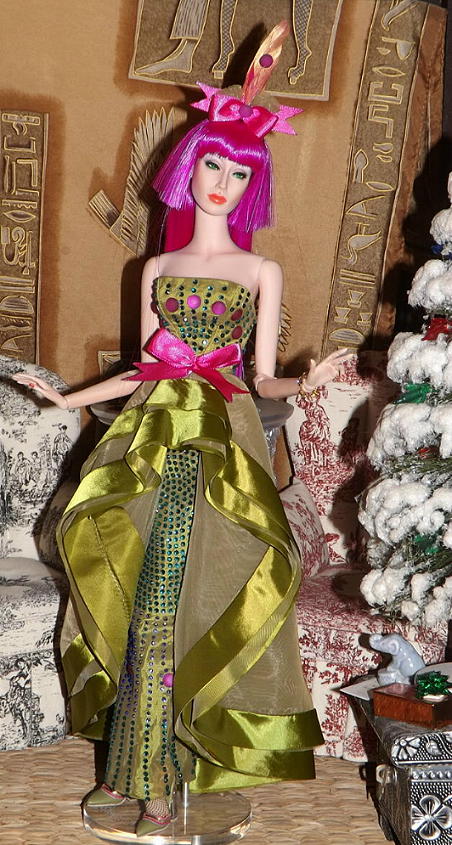 Dionysis wears the 2014 Holiday gown Bitter Pill.
The new Superdoll sweater set Knitorious is great. They color coordinate with the baseball caps and the superdoll jeans. Here Sloan wears the purple sweater
Macrame wears the pink sweater with baseball cap and red jeans
Neurotica in the black sweater

Just released November 2013, the Superdoll baseball caps! Beautifully made and so cute and they mix and match with the original Sybarite jeans and the Champ Paq shorts

The 2013 Halloween doll Cirque

Cirque in her gorgeous lingerie

Superdoll outfit Flutterby released in fall 2013 from the Monoglam collection.

Sybarite Lawn from the Monoglam series released fall 2013. I combed out her braids to show her long green hair.

Lawn redressed Asian style in Superdoll Marigold accessories. I restyled her hair

Sybarite Sinatra arrived in February 2013. She was the Valentine doll. Gorgeous short burgundy spiked hair and dressed all in gold.
I made a ponytail for her from doll hair and pinned it to her head for a new look.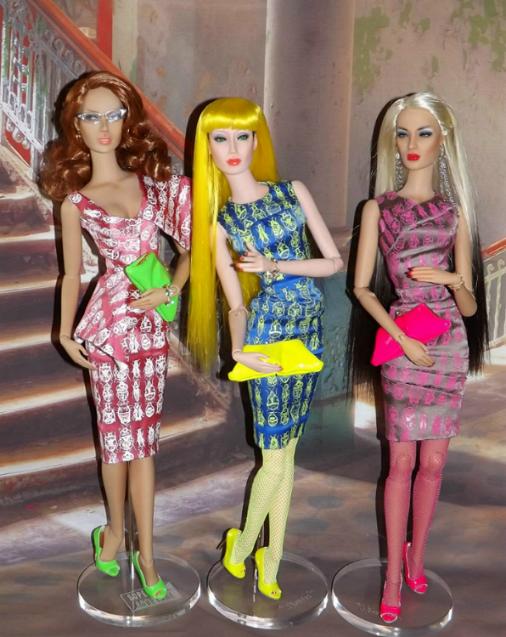 The Sybarite Bugged dress set. This set includes all three dresses in a cute bug print, with coordinating purses, shoes and stockings. Modeled by Abbe Lane, Sloan and Macrame.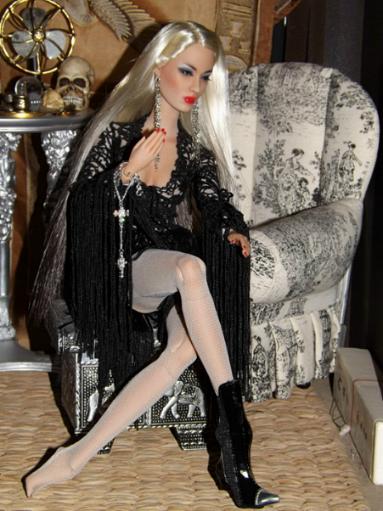 The 2012 Halloween special Macrame. She arrives in a short fringed dress, high heel black boots with silver toes, silver rhinestone jewelry and that gorgeous long blonde hair with black tips. Macrame has the Voltaire face sculpt and light tan skintone.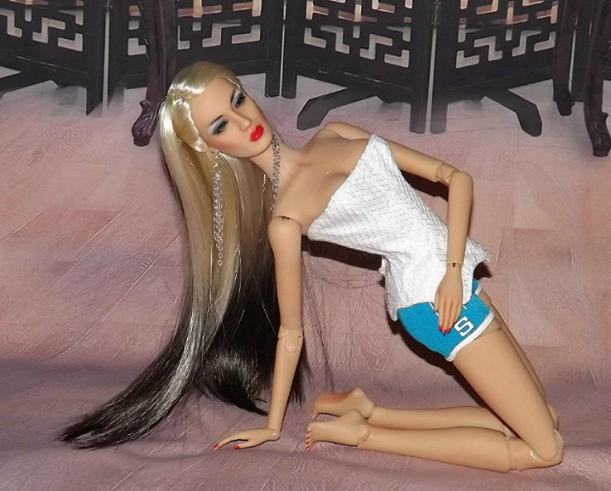 Macrame redressed in Champ Paq shorts, Blade white bustier.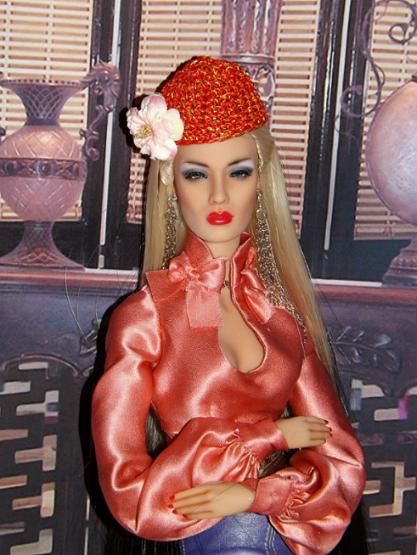 Macrame wears the blouse from Orb, hat from Sloan's outfit and Parsley's leather skirt
Macrame wearing Blade's white satin suit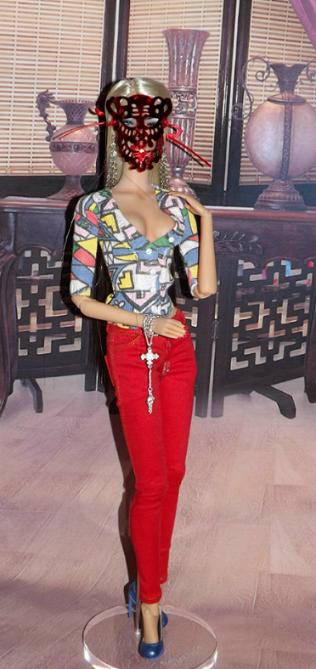 Macrame redressed in Sybarite red jeans, Sweater and shoes from Meeow outfit and the red masque that comes with Macrame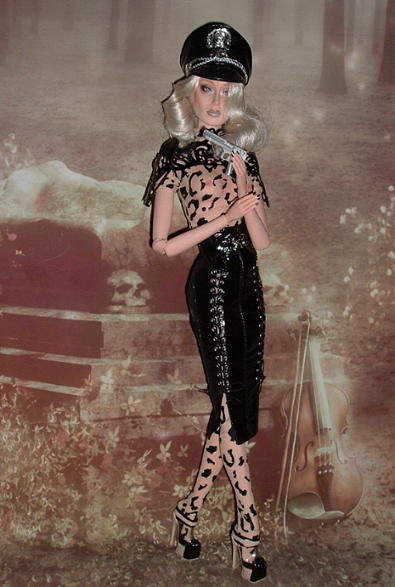 Domina is an incredible doll. I love the police hat and her stretch bodysuit. I added the gun. Domina is the Venus clone sculpt on the Generation 2 body. All the newer dolls after Toxica have this body, with smoother joints at the hips, double joints at the elbows and knees and a higher instep in the foot.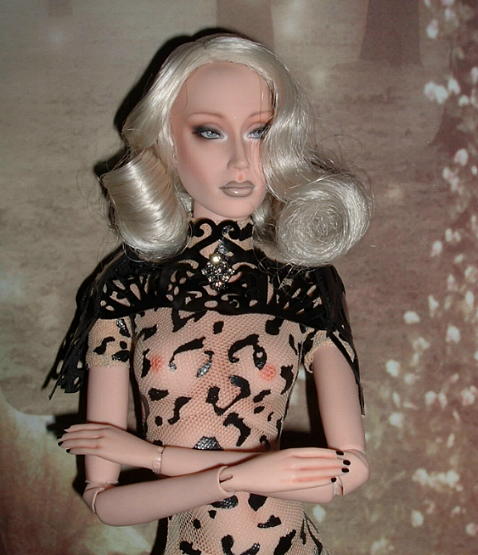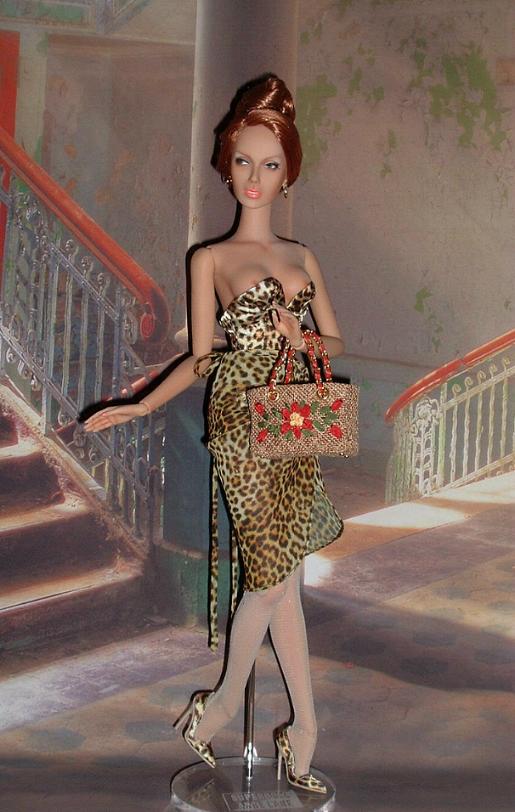 Abbe Lane represents the famous singer/dancer from the 1950's. She arrived in her leopard swimsuit oufit. I have the open mouth version. Abbe Lane has a unique body. She has the new style smooth hip joint, but does not have the double jointed knees or elbows. Her knees and elbows are like the older dolls.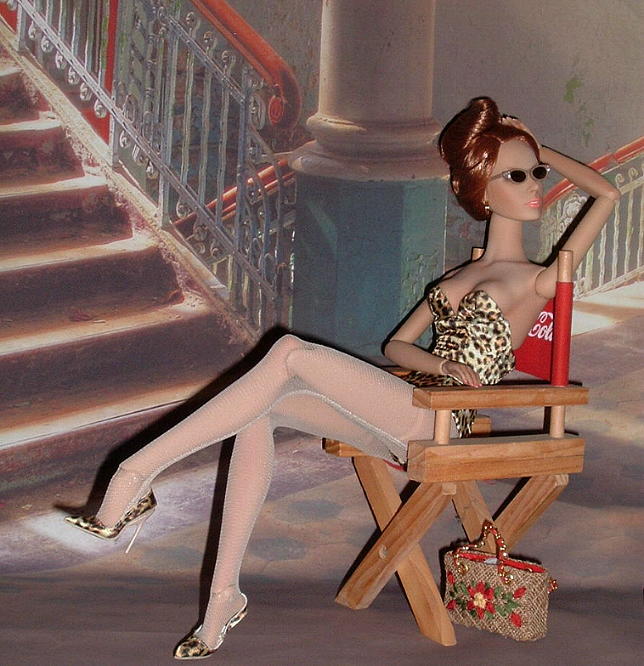 I added the Sybarite sunglasses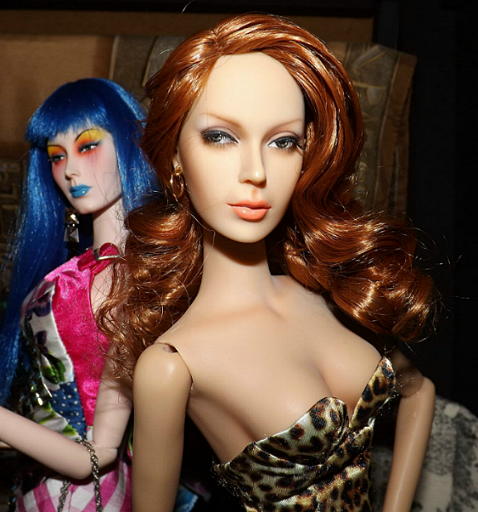 I took her hair down and prefer it this way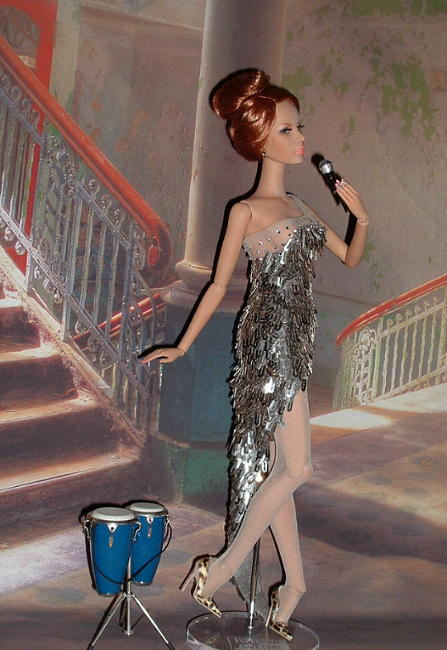 Abbe wears Blade's razor gown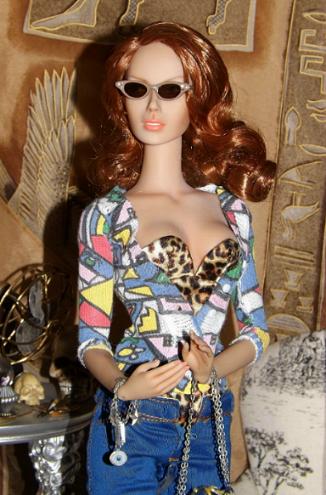 Abbe wears the Sybarite blue jeans with her leopard bodysuit and the sweater from the Meeow outfit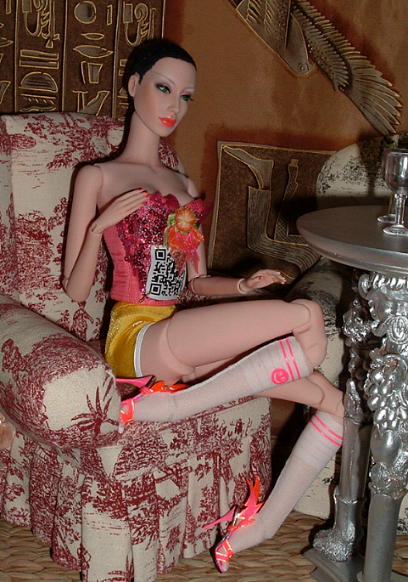 Dionysis arrives with flocked hair.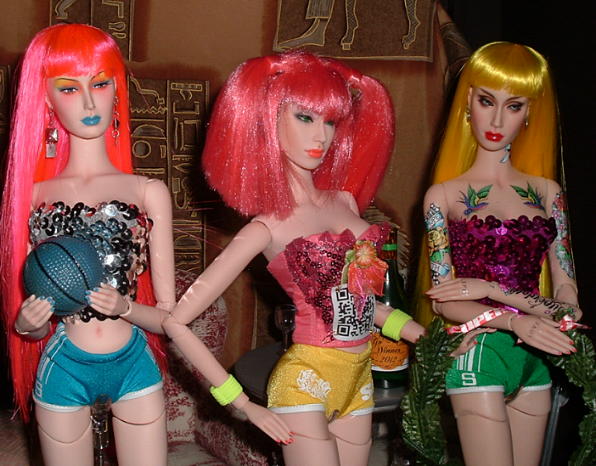 Doku in the pink Champ Paq wig, Toxica in the yellow Champ Paq wig and Dionysis in the Kick wig. Dolls wear the cute little shorts and sequin tops that come in the Champ Paq accessory set. Also included were another pair of shoes in green/blue, shorts in pink, black and purple, a bottle of champagne, victory wreath, elbow length fuschia gloves and 4 pairs of interchangable Sybarite hands with fingers in various positions.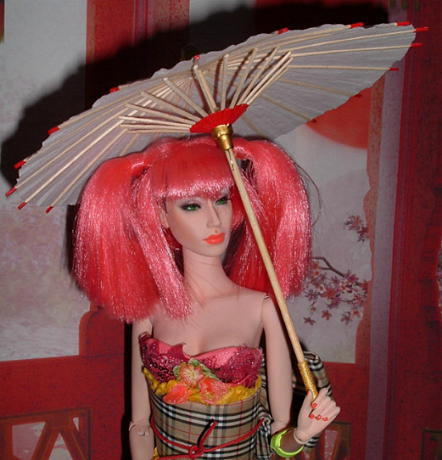 Dionysis in the Kick wig with Syb Marigold accessory obi and one of the gripping hands from the Champ Paq set. Now she can hold her umbrella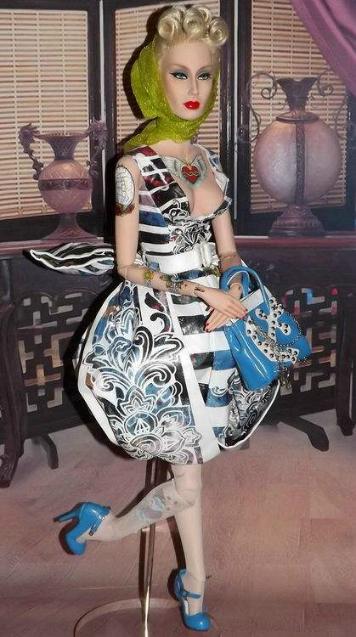 Hell's Belle Neurotica is the third in this series, exclusive to Marl & B doll shop in the USA. Gorgeous tattoos and exquisite blue eyes. I can't decide which of the three is the most beautiful.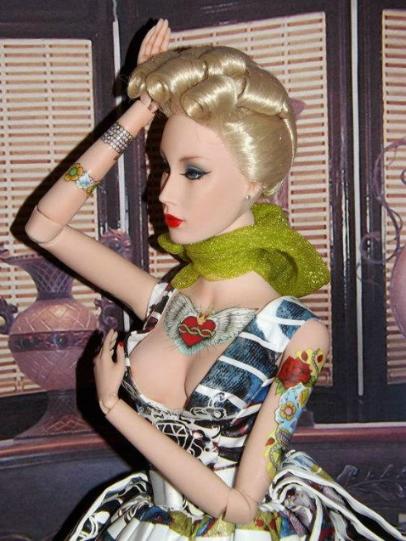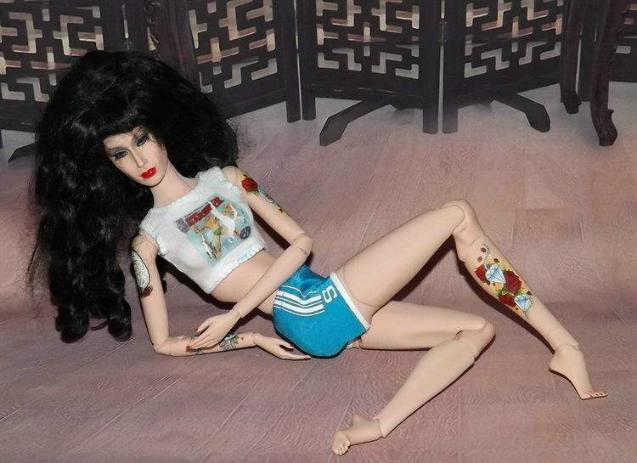 Neurotica with a black wig (I just covered her blonde hair with a larger size wig as I did not want to remove this doll's wig.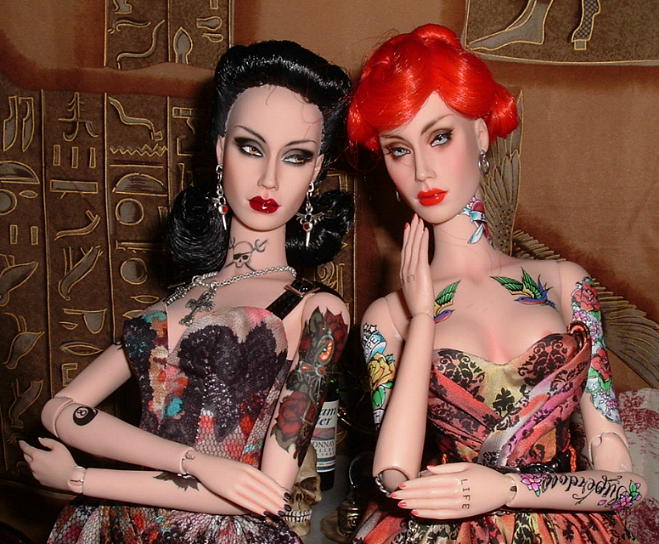 The first two in the Hell's Bells series Gothica and Toxica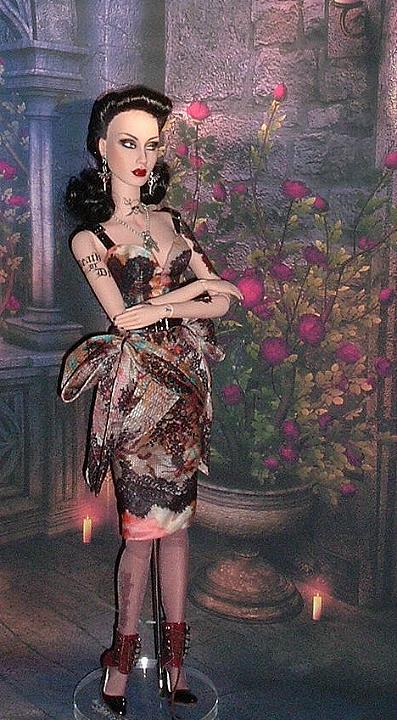 Hell's Bells Gothica is my choice for most beautiful Sybarite. Her tattoos are exquisite and that face is stunning.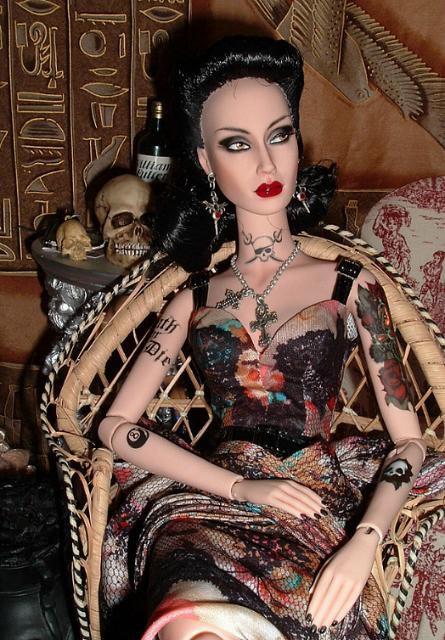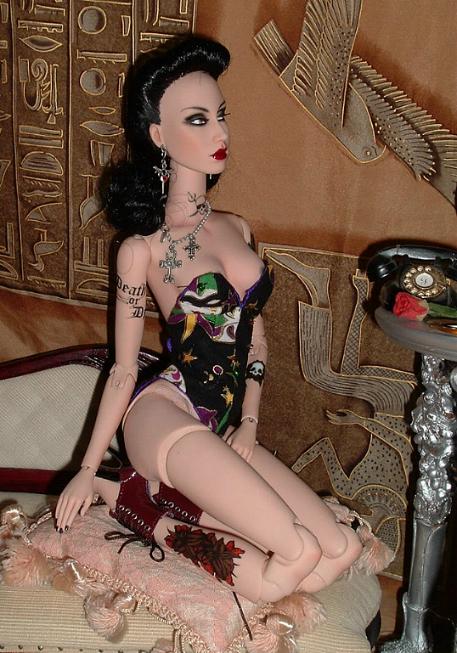 This photo shows how poseable the new Sybarite bodies are. Gothica can kneel all the way back on her legs and balance very well.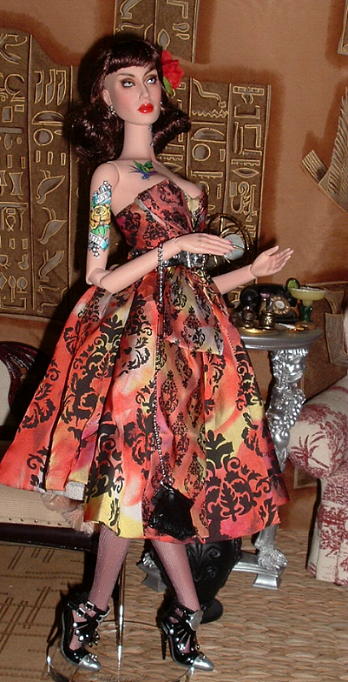 Toxica as she arrives in her original outfit.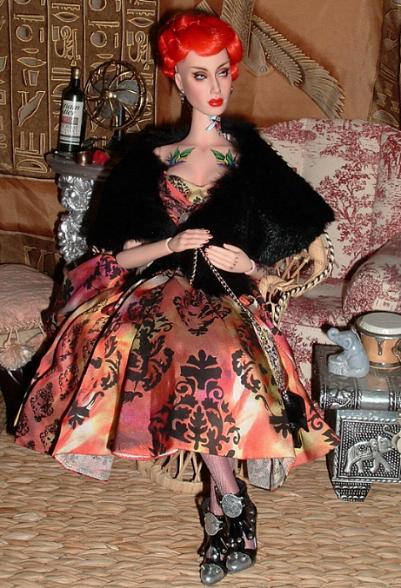 Toxica in a red Joe Tai wig in her original outfit that also comes with a fur shrug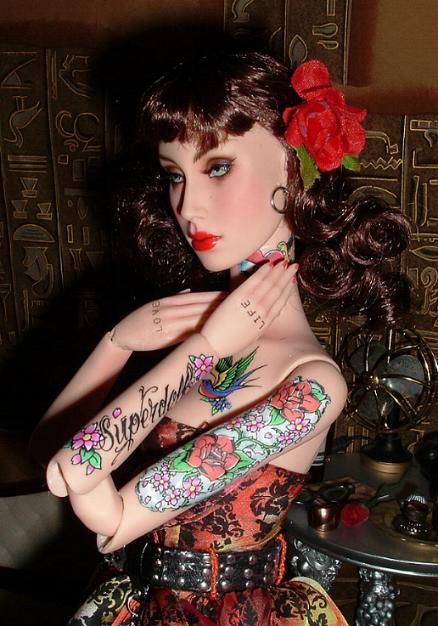 Toxica close up showing off her tattoos
Toxica wears a blue Joe Tai wig and the Sybarite outfit Meeow which was released in Jan 2011.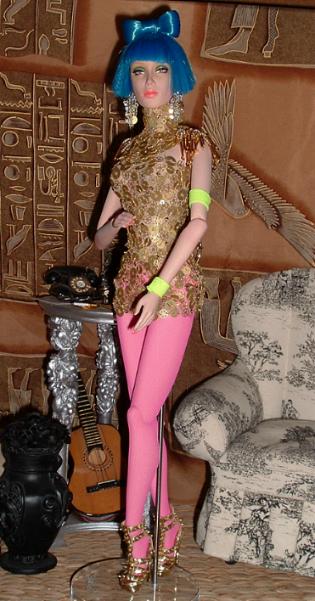 Fantastic Tock from the 2010 Paris Fashion Doll Festival! I'm so lucky to have been able to buy one of these gorgeous dolls as I love her blue hair and the gold clockwork outfit.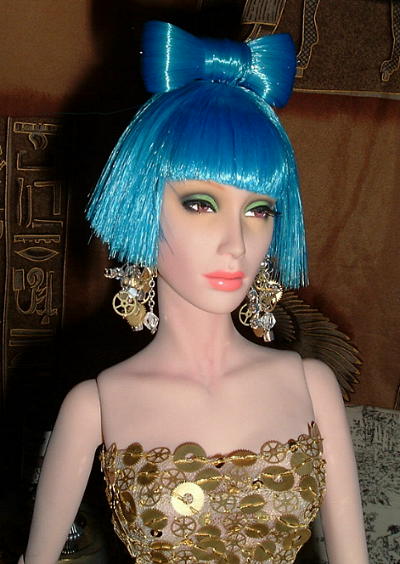 A closeup of Tock's lovely face and wig. she is one of the first Sybarites to wear earrings.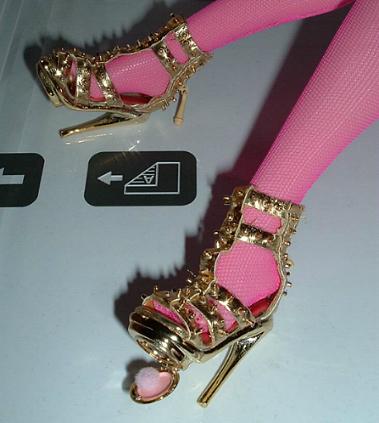 Tock's shoes open up on the soles like a tiny compact and inside is a tiny powder puff!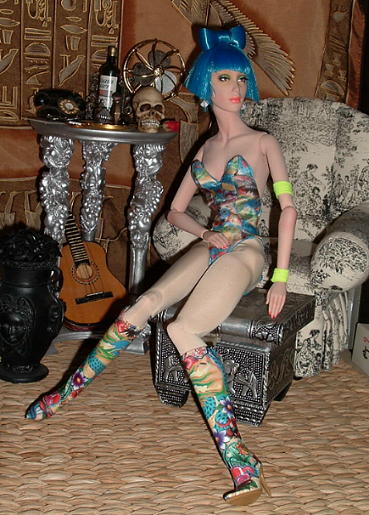 Tock looks great in the Sybarite tattoo print. I made the outfit from print on silk fabric to match the Sybarite tattoo boots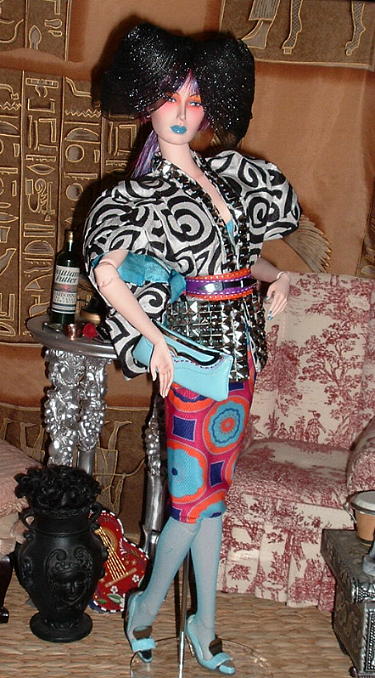 Sybarite Fugu Doku an oriental beauty released in May 2011.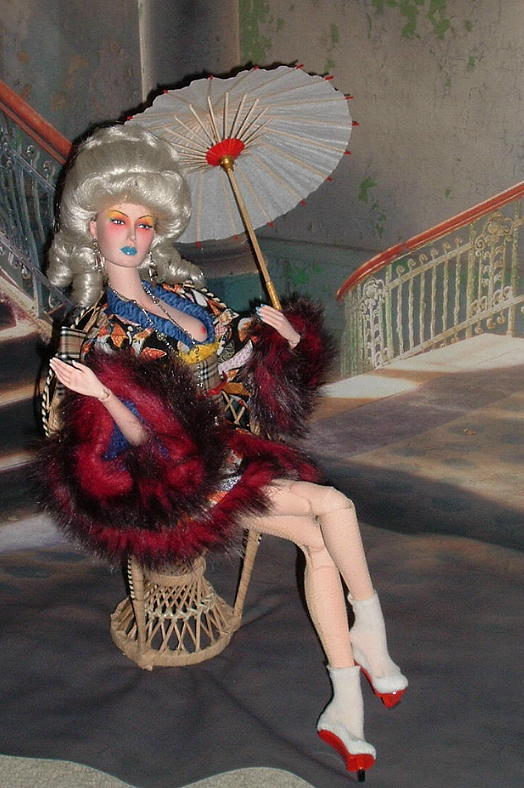 The lovely Sybarite Doku wearing Superdoll accessory called Marigold. This is a Japanese OBI with yellow flower, Japanese shoes and socks, umbrella with cover and red metal hair comb.
I made the modern fur trimmed kimono
The lovely Sybarite Ivory. I changed her slightly by flocking her bald head. She arrived with a scarf and small blonde hairpiece. I wanted to try a bit of pink flocking for a new look. I also made her lips a bit pinker. Ivory is a unique clone facial sculpt.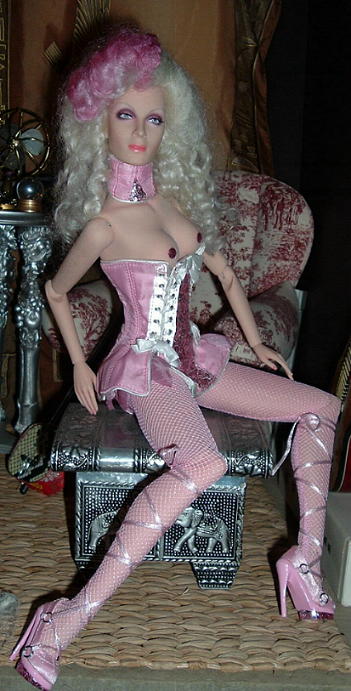 Ivory in her original outfit with a mohair wig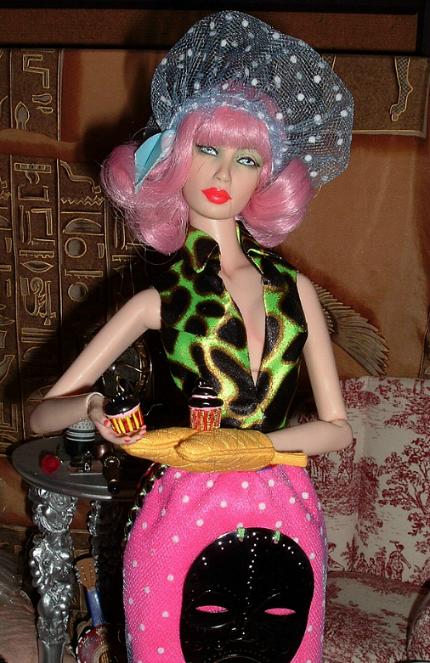 A Sybarite outfit released in June 2011 called Burning Cookies. It includes a green leopard print bodysuit, slacks, belt, shoes, apron with metal mask, hairnet, blue socks and two burnt cupcakes.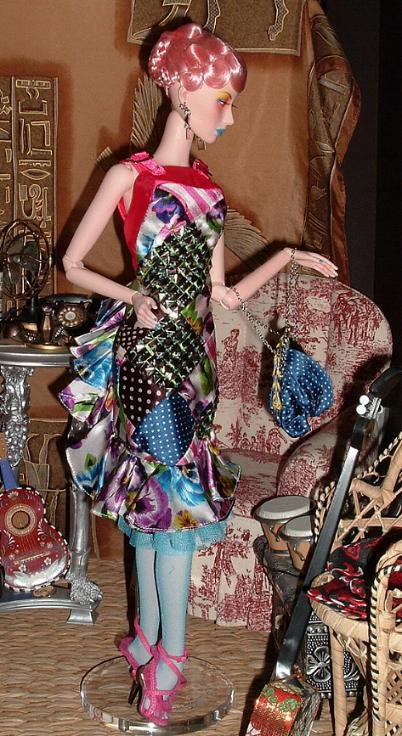 Doku wears the lovely Picnic Magnet outfit released in June 2011.
BR>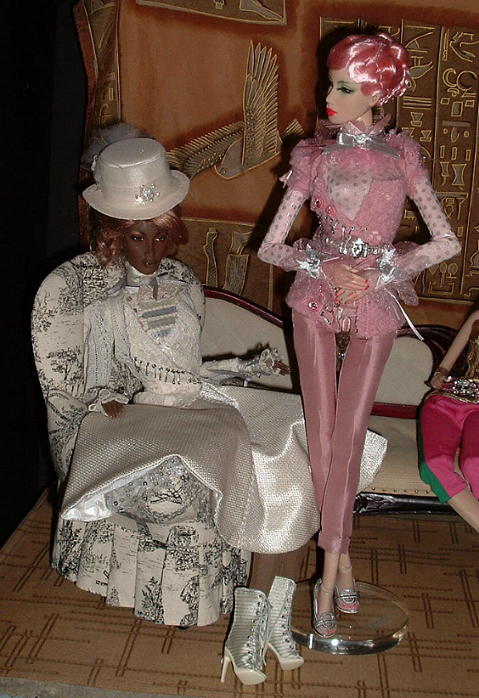 Sybarite outfits Love and Testament
The new Inque in her original outfit, a gorgeous African queen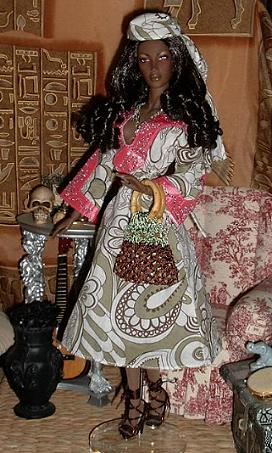 Inque wears the Sybarite Tribe outfit

<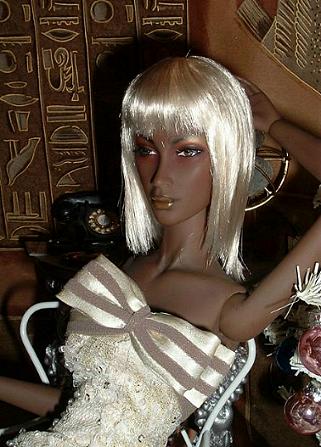 Inque in Joe Tai vanilla wig and Orb outfit>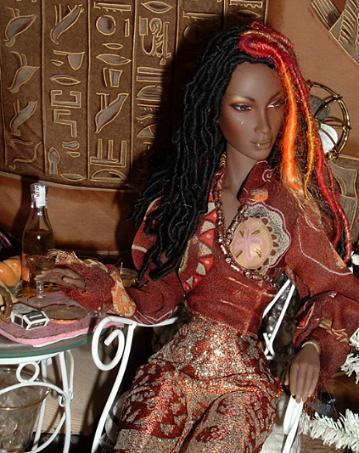 Inque in a OOAK Laurie Lenz wig called Fantasie de Flambe and an outfit made by me>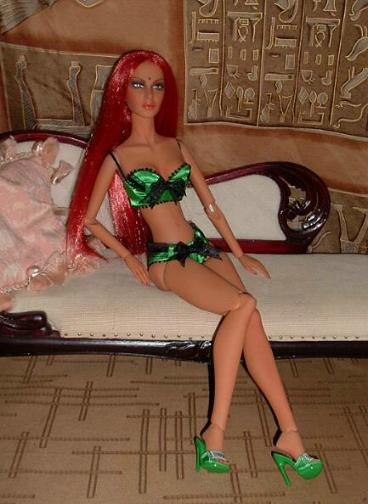 Raja, released in December 2008, an exotic far eastern beauty as she arrives in her red wig and green lingerie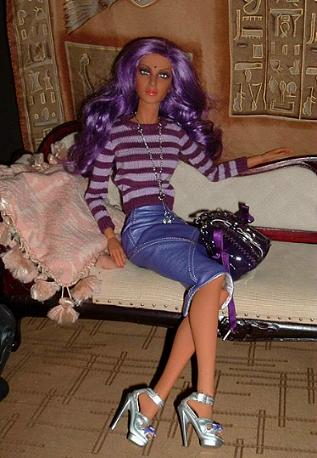 Raja wears Sybarite Bzzz outfit. Purple is her color! Monique purple Ginger wig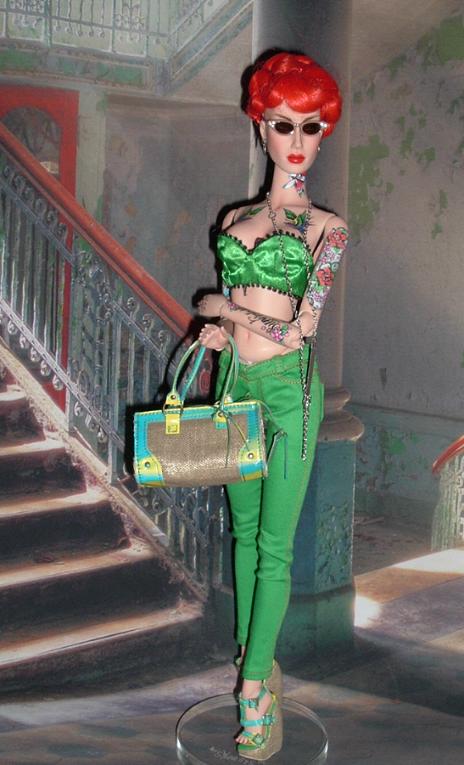 Sybarite Toxica wears the Superdoll green jeans and the Hesiglam accessory set consisting of the platform shoes and matching bag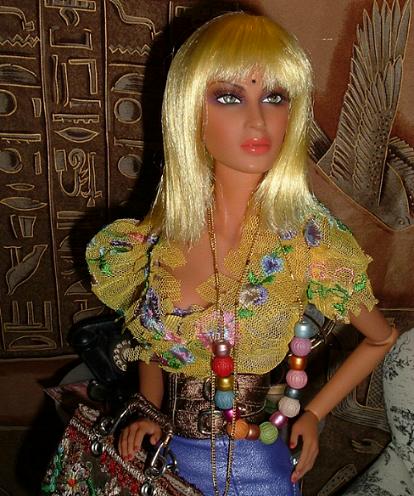 Raja in Joe Tai yellow wig and Parsley's outfit.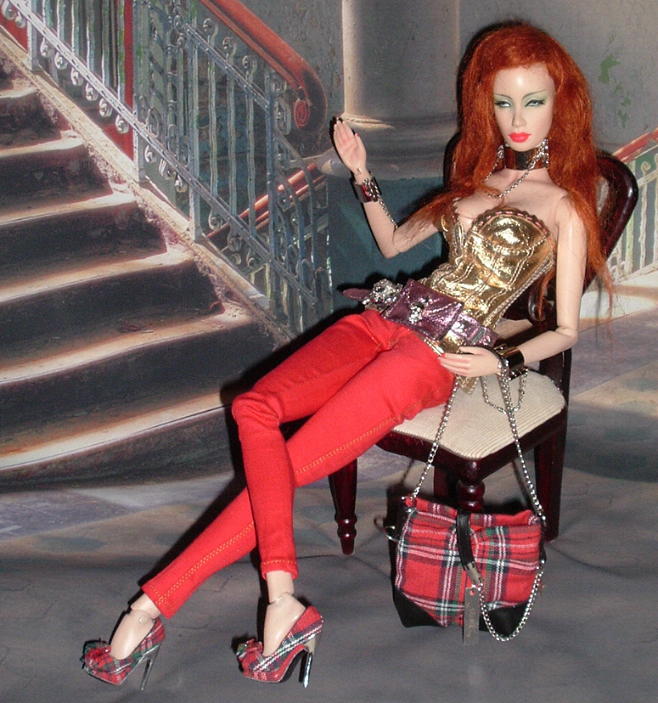 Sloan wears the Knife accessory set which includes plaid high heels and plaid purse.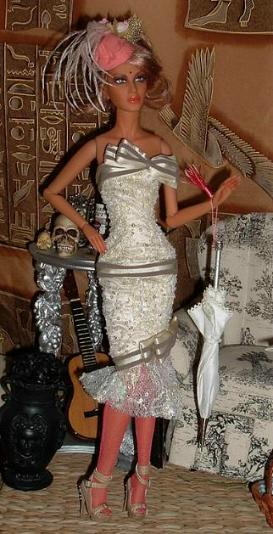 Raja wears the Superdoll Demi Couture outfit called Orb released in December 2008. This is a gorgeous outfit with plenty of mix and match possibilities. It comes with the peach silk blouse, strapless beaded dress, peach stockings, ruffled stole, beige rhinestone heels, peach silk hat, umbrella and fantastic white plastic gas mask embedded with rhinestones! There is also a paper money folded hat included, but I didn't like it with this outfit.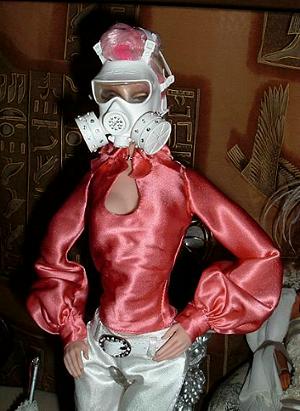 Parsley wears the strange but so cool gas mask included with the Orb outfit.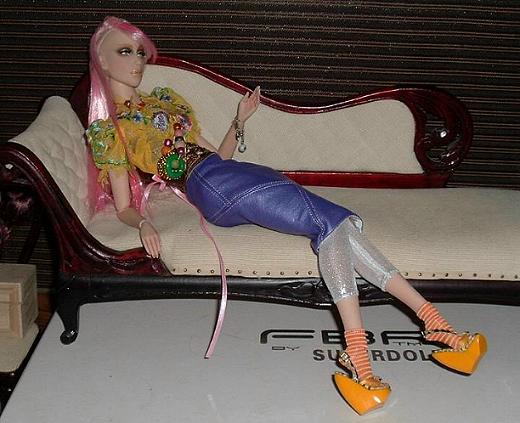 Sybarite Parsley was released in April 2008. She is one of the Fashion Victims series and has a fantastic look with her pink/white mohawk braided wig, leather skirt and sheer embroidered blouse.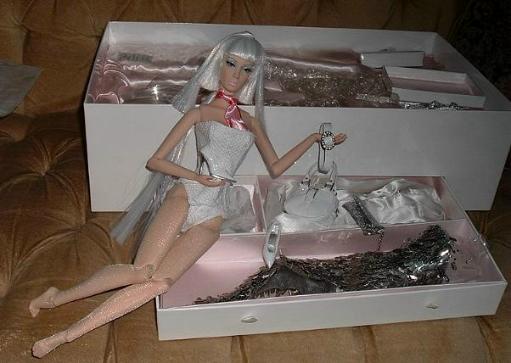 Blade as she arrives in her gift box with drawer.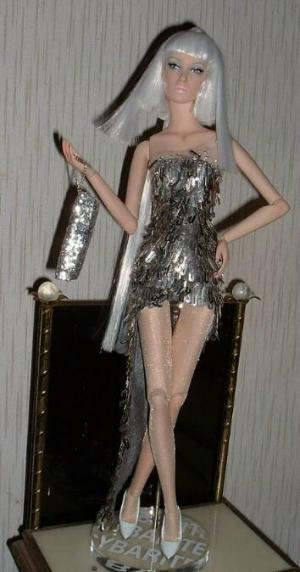 Blade models her fantastic razorblade dress. This is a tiny work of art with hundreds (maybe thousands) of tiny razorblades sewn on to a satin lining with net and rhinestones at the top. A matching sparkling purse is included.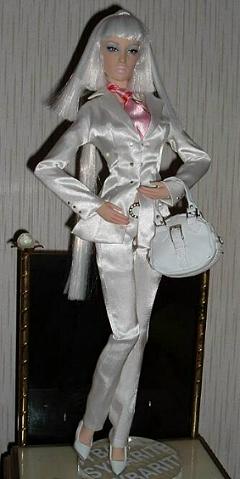 Blade in her white satin suit with red striped tie and matching shoes and purse.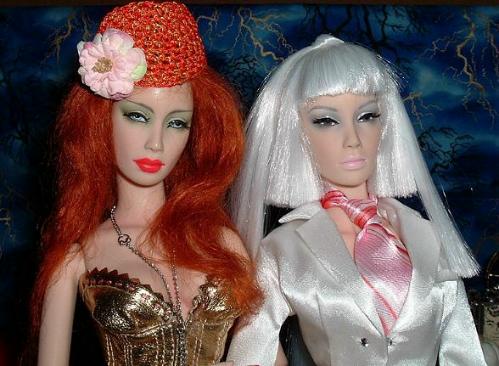 Blade and Sloan together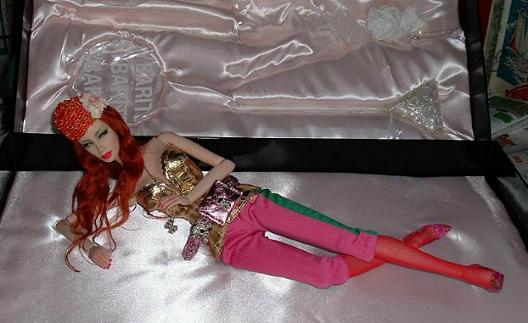 Sloan as she arrives in her satin box.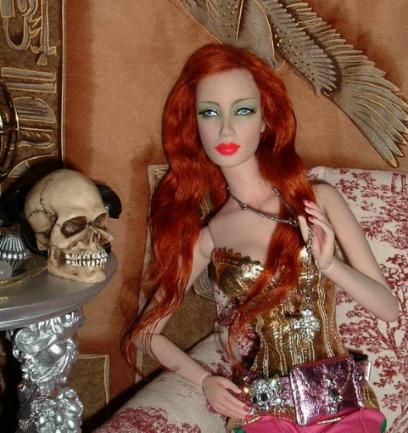 I love Sloan's gold leather bustier and pink leather belt with rhinestone skulls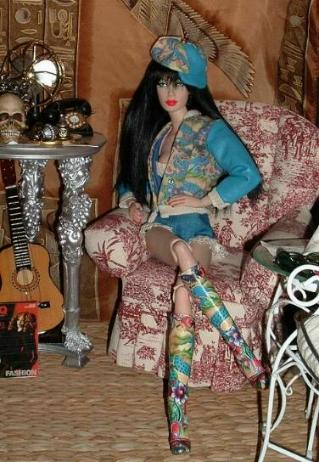 I made this outfit by printing my own fabric, scanning in the tatoo boot print for my leather trimmed jacket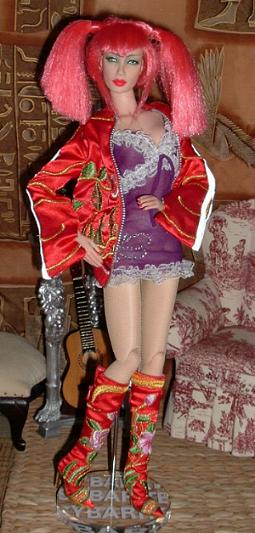 Sloan wears the Kick outfit from the Classic 8 Sybarite collection.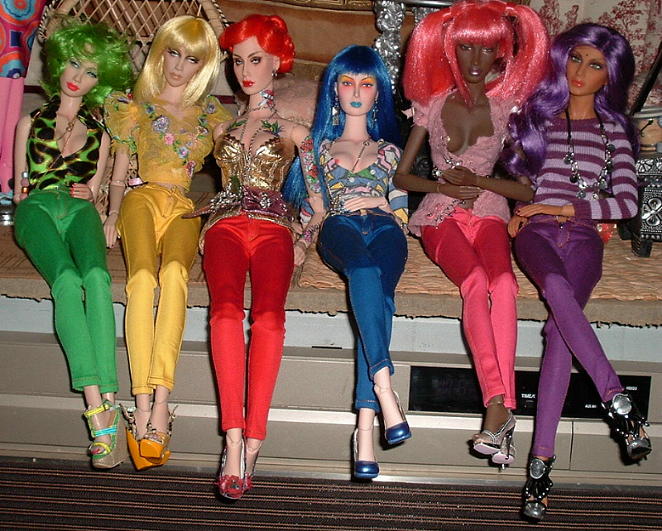 My Sybarite group wearing the Superdoll jeans that came in a package of 6 different colored pairs with an additional pair in white.

Superdoll Web Site to purchase dolls and accessories

Visit my web page for the Innoquii porcelain doll from Superdoll
Visit my Sybarite doll gallery at the Doll Page for more Sybarite doll photos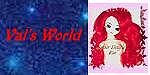 Return to Val's World main page