Custom pink engines and cars on the Bikini & Flamingo RR
The theme of my railroad is the color pink. I collect pink lawn flamingos and pink flowers figure heavily into my landscaping. It seemed only natural to paint some of my engines and rolling stock pink as well. My railroad is more of a fantasy railroad rather than a prototypical one, although I do have many other engines and cars that are in the original manufactured colors and road names.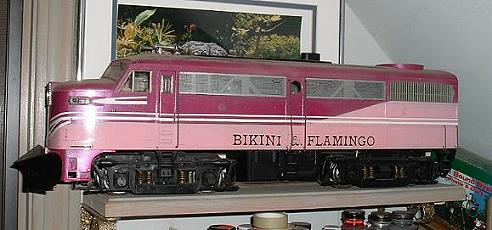 The very first engine I custom painted for my railroad, an Aristo-Craft Alco. I used an airbrush and had custom decals made up which I designed with my railroad name, The Bikini & Flamingo. Had to add two tiny little pink flamingos to the interior engineers cab as well!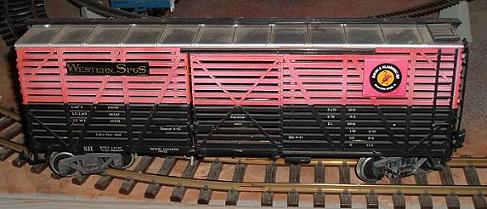 I painted an Aristo-Craft stock care in pink/black and added a sound card for realistic deisel sound.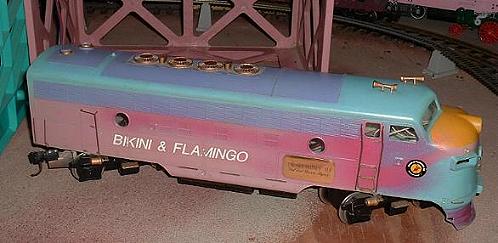 This is the pride and joy of my railraod, my Great Trains F7 deisel engine. This came as an unpainted kit which I put together and customized for my railroad.

The Aristo-Craft 4-6-2 Pacific steam engine and tender. This was custom painted and weathered by me in shades of rose pink.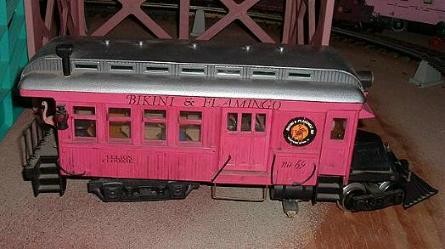 The Delton Doozie railbus also painted pink by me. I added a railbus soundcard by PH Hobbies for realistic sound.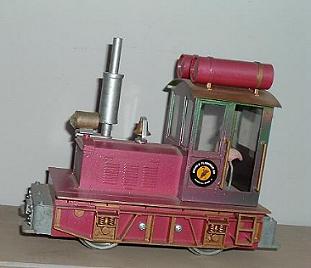 Another kit engine built by me and custom painted called the Little Hustler.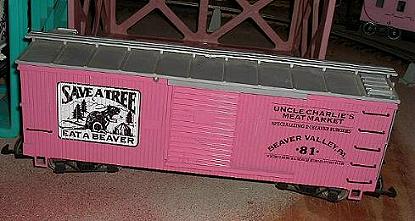 This custom pink boxcar was manufactured by San Val trains in California and made in very limited editions in pink. I was lucky to get one.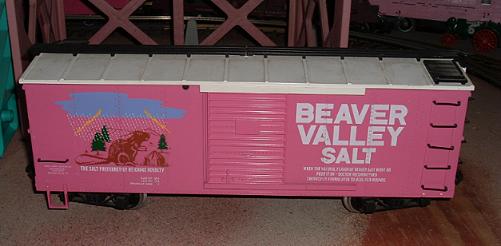 Another of the San Van Trains custom Beaver boxcars done in pink.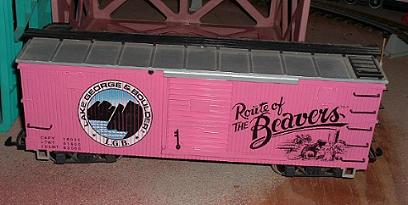 This pink boxcar was manufactured by LGB Trains and lucky for me, done in pink.
This is a reefer car manufactured by USA Trains. I bought it because it had my signature color pink.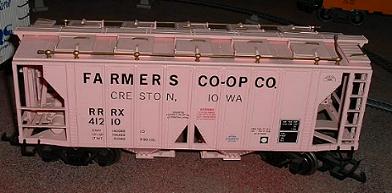 An Aristo-Craft hopper manufactured in pink.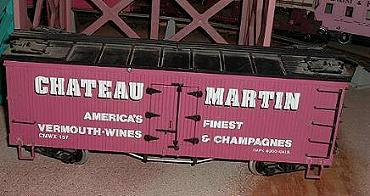 The Chateau Martin Wine reefer made by USA Trains in a dark maroon/pink color.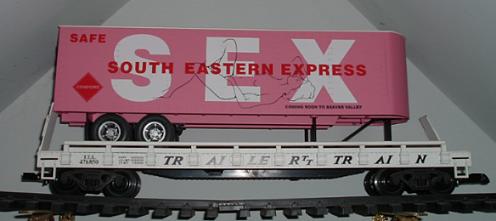 This is another of San Val Trains custom pink cars done in a rather risque theme, but it was pink and unique and very limited so I had to have it!

Return to Bikini & Flamingo main page